'Ocean's 8' Trailer: An Incredible Cast Comes Together To Pull Off The Perfect Heist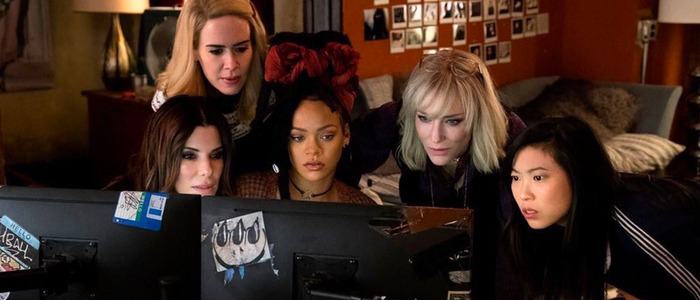 A new Ocean's 8 trailer is here, reminding us all that this impeccably-cast film is probably going to be a lot of fun. Sandra Bullock, Cate Blanchett, Anne Hathaway, Mindy Kaling, Sarah Paulson, Awkwafina, Rihanna, and Helena Bonham Carter star in the female-driven sequel/reboot of Steven Soderbergh's Ocean's 11 films.
Will angry internet trolls react to the female-driven Ocean's 8 the way they reacted to the female-driven Ghostbusters reboot? I don't know, and what's more, I don't care. All I care about is that this film looks like a lot of fun, and that the cast is amazing. I mean, have you seen Cate Blanchett's wardrobe for this film? We're talking velvet suits here, people. Watch the new Ocean's 8 trailer below, and take all that style in.
Ocean's 8 Trailer
In the film, Sandra Bullock plays Debbie Ocean, sister to George Clooney's Ocean's 11 character Danny Ocean (who is apparently now deceased). Recently paroled from jail, Debbie puts a new crew together to pull of a heist at the Met Gala. This is basically the plot of every Ocean's movie – a crew comes together to pull off a big job, so don't expect anything too earth-shattering here.
I don't know if Ocean's 11 will turn out to have the same artistry as Soderbergh's films – the content of those films is light and frothy, but Soderbergh brings his A-game, as usual. This film hails from director Gary Ross, who directed Pleasantville and the first Hunger Games.
Everything about Ocean's 8 looks stylish and fun, and did I mention how incredible that cast is? Any film that pairs Cate Blanchett with Rihanna instantly has my money. Damien Lewis, Richard Armitage, Dakota Fanning and James Corden (ugh) also make appearances in the film. Ocean's 11 trilogy players Matt Damon and Carl Reiner will also pop up in the film at some point, along with a laundry list of celebrity cameos that are probably best left unspoiled.
Since people are terrible, I'm sure there's going to be a knee-jerk reaction about someone making an Ocean's 11 "remake" – but don't forget, Soderbergh's Ocean's 11 was a remake as well, of a 1960 film starring the Rat Pack. So maybe just cool it before you start foaming at the mouth.
Ocean's 8 opens June 8, 2018.
Criminal mastermind Debbie Ocean and seven other female thieves try to pull off the heist of the century at New York's annual Met Gala. Their target — a necklace that's worth more than $150 million.