Joaquin Phoenix Won't Let Heath Ledger's Iconic Joker Scare Him Away From The Role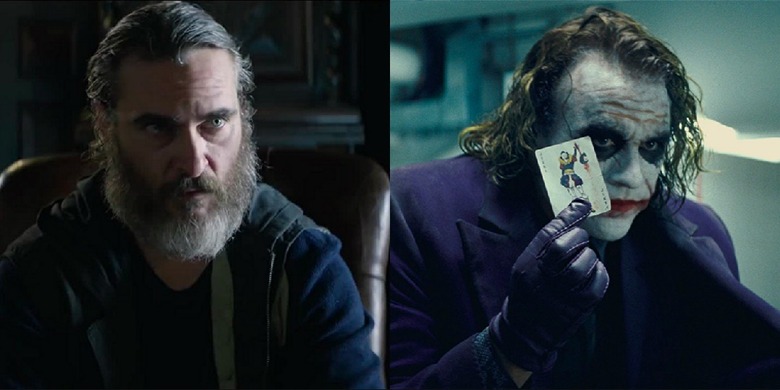 In case you forgot, a Joker origin movie directed by The Hangover's Todd Phillips, written by 8 Mile scribe Scott Silver, and executive produced by Martin Scorsese is happening. Though the movie still sounds like someone threw a bunch of Film Twitter words into an online generator, the Warner Bros. movie continues to be a very real project.
The only element of the film that sounds remotely real (Scorsese? Really!?) is the potential casting of Joaquin Phoenix as the Clown Prince of Crime. And while Phoenix has remained coy on whether he had signed on for the role, he did have some intriguing things to say about the character's legacy and Heath Ledger's Oscar-winning turn.
In an interview with Collider, Phoenix responded to the rumors that he was going to play the iconic Batman villain with a bit of a non-answer.
"I don't know about that movie or character specifically, but I was thinking about it's interesting with comics there's different writers and artists that come on," Phoenix said about the reports that he was "close to a deal" to play the Joker in Phillips' origin movie.
But Phoenix went on to make clear that he wouldn't be intimidated by Ledger's tour-de-force performance as the Joker in The Dark Knight. Ledger's turn in Christopher Nolan's 2008 superhero caper has redefined the character for the modern generation, and won him a string of posthumous accolades. But Phoenix, if he were to take the role, says that Ledger's legacy wouldn't affect him.
"It's different than this character from literature being uniquely that. There are different interpretations. It's so interesting; I was just thinking about it today, it seems so unique in some ways to comic books. I think there's probably room for that.
Maybe it's like doing a play, like you always hear about people doing something, 'You should have seen this actor in this performance,' but then other actors do it and it's a different kind of film. I think that genre, comic books, kind of lends itself to having different people play the same character and interpret it in a different way. It's kind of built into the source material in some ways. I think it's cool when people do that."
This is far from confirmation that Phoenix will play the Joker in the Warner Bros. origin movie — in fact, the actor seems to become increasingly tight-lipped and/or confused as the interviewer tries to probe him about the project.
If he were to take on the role, it would certainly be wildly different from Ledger's performance, which gave an unhinged, brutal, "agent of chaos" spin on the character. From what we've heard about the Joker origin film — which will reportedly be an '80s gangster movie — this Joker could be equally grim, but in a more "hardened criminal" kind of way.