'Avengers: Infinity War' Has Already Sold More Advance Tickets Than The Last 7 MCU Movies Combined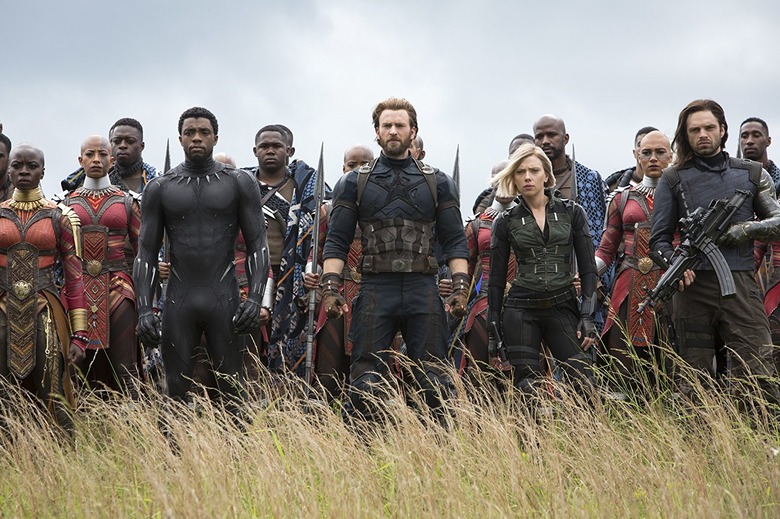 Avengers: Infinity War is putting a Hulk-sized fist through presale ticket records. After breaking the first-day ticket sales record set just a few months earlier by Black Panther, the highly anticipated superhero ensemble has just smashed another record.
Infinity War has sold more advance tickets than the past seven Marvel Cinematic Universe movies combined. That's right, the combined might of Black Panther, Captain America: Civil War, Guardians of the Galaxy Vol. 2, Thor: Ragnarok, Ant-Man, Spider-Man: Homecoming, and Doctor Strange is nothing in the face of Avengers: Infinity War.
Fandango released the news of Infinity War's record-breaking presale run, revealing that Infinity War is on course to take Black Panther's spot as the "number one superhero preseller in Fandango history," according to Managing Editor Erik Davis.
#InfinityWar isn't just BREAKING advance ticket records... it's annihilating them! pic.twitter.com/ok0pdL7xpo

— Fandango (@Fandango) April 11, 2018
Infinity War "has sold more than double the amount of tix as Black Panther two weeks from release," Davis elaborated on Twitter. "And not only that, it's sold more tickets than the last 7 (!!) Marvel Studios movies combined. The film is going to be massive."
Davis also revealed that Infinity War also surpassed 2015's Furious 7 as the ticketing service's top April preseller — a milestone that the superhero sequel actually achieved back in March.
Fandango told The Hollywood Reporter that Infinity War is doing numbers that the ticketing service has never seen before. "Infinity War has built up such unprecedented anticipation that it's pacing to break records, the likes of which we have never seen before for a superhero movie," Davis told THR.
Fandango doesn't release presale ticket numbers, but early industry tracking indicates that Infinity War is set to make a $200 million-plus opening in the U.S. Only five films have crossed the $200 million mark on opening weekend: Black Panther ($202 million), The Avengers ($207.4 million), Jurassic World ($208.8 million), Star Wars: The Last Jedi ($220 million) and Star Wars: The Force Awakens ($248 million). Insiders are predicting that Infinity War will make more than 2012's The Avengers.
Joe and Anthony Russo direct Avengers: Infinity War, which hits theaters on April 27, 2018.
Iron Man, Thor, the Hulk and the rest of the Avengers unite to battle their most powerful enemy yet — the evil Thanos. On a mission to collect all six Infinity Stones, Thanos plans to use the artifacts to inflict his twisted will on reality. The fate of the planet and existence itself has never bee

n more uncertain as everything the Avengers have fought for has led up to this moment.