'American Animals' Trailer: A Kinetic, Compelling Heist Drama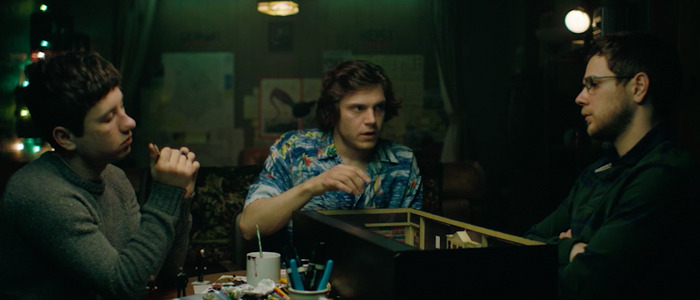 After seeing Bart Layton's 2012 documentary The Imposter, we were excited to learn what he would be directing next. We had to wait a few years to find out, but it was worth the wait: he's back with American Animals, a mesmerizing heist film based on the true story of one of the boldest heists in American history. The first American Animals trailer has arrived, and this is one heck of a well-crafted trailer. Check it out below.
American Animals Trailer
This is one of my favorite trailers of the year. The distinct and varied sound effects, coupled with the quick cuts, are disorienting in the best way, making me lean forward and feel like I want to be in on whatever con these guys are working on. And the pacing is fantastic: it starts slow and mysterious, gets progressively more intense, and ends with a wonderful tease of stars Evan Peters, Barry Keoghan, Blake Jenner, and Jared Abrahamson dressed as old men and preparing to finally execute their plan.
I saw the movie at Sundance (you can read my review here), and while this trailer is very well-constructed, it doesn't even show one of the coolest aspects of the movie: the fact that Layton cuts between footage of his cast reenacting the crime and interviews he conducted with the actual thieves themselves, providing a fascinating element that separates this from just another by-the-numbers heist film. I love heist films as much as anyone – by-the-numbers or not – and if you're even remotely interested in that genre, you won't want to miss this one.
Here's the official synopsis:
AMERICAN ANIMALS is the extraordinary and thrilling true story of four friends who brazenly attempt to execute one of the most audacious art heists in U.S. history.
Centering on unpredictable wild child Warren (Evan Peters) and aspiring artist Spencer (Barry Keoghan), two friends from the middle-class suburbs of Lexington, Kentucky, the film follows the duo through college life at separate universities, as adult pressures begin to weigh heavily on their futures. Realizing their lives may never be important, they organize the brazen theft of some valuable books from the special collections library of Spencer's college, including Audubon's Birds of America, valued at $10 million. Enlisting two more friends, budding accountant Eric (Jared Abrahamson) and fitness fanatic Chas (Barry Jenner), the gang meticulously plots the theft and subsequent fence of the stolen volumes, taking cues from popular heist movies. But the thieves' plans go awry, placing their bright futures in limbo.
Unfolding from multiple perspectives, and shifting between the fictionalized central narrative and documentary-style interviews with the real-life figures on which the story is based, writer-directed Bart Layton (The Imposter) elevates the heist movie to bold and thrilling new heights.
American Animals arrives in theaters on June 1, 2018.