Melissa McCarthy Is Re-Teaming With Husband Ben Falcone In Action-Comedy 'Super-Intelligence'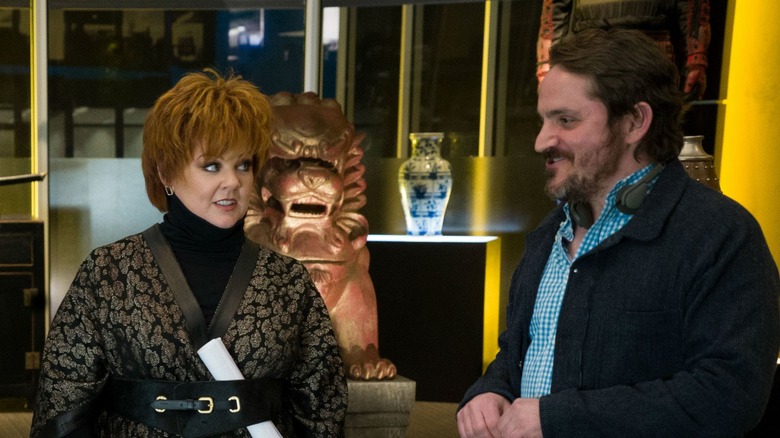 Melissa McCarthy is reteaming with her husband Ben Falcone for the action-comedy Super-Intelligence. That will make this their fourth feature film together as actress and director — and that doesn't even count the numerous times he's made a blink-and-you'll-miss-it cameo in one of her comedies.
Falcone is on board to direct the New Line action-comedy Super-Intelligence, according to The Hollywood Reporter. McCarthy is set to star in the movie that the duo set up last year as producers via their On the Day banner.
The film follows "Carol Peters, a former corporate executive whose earnest yet unfulfilled life is turned upside down when she is selected for observation by the world's first super-intelligence — an artificial intelligence that may or may not take over the world."
Yep, it sounds like a role perfect for Melissa McCarthy, who has ruled the domain of broad comedienne for nearly a decade now. And she's become one of the highest-paid actresses in Hollywood for it.
Super-Intelligence is written by Steve Mallory, who also penned McCarthy and Falcone's second feature collaboration, The Boss.
Falcone has directed McCarthy in Tammy (2014), The Boss (2016) and the upcoming Life of the Party. They also worked together on the upcoming the puppet comedy The Happytime Murders and will reunite again for the Christmas musical Margie Clause. It seems like it's a collaboration that's bearing fruit for the married couple — or at least, solid paychecks — who spice up some of these low-brow comedies with silly cameos from Falcone.
But McCarthy does seem like she's been willing to stretch her dramatic chops recently, with her role in the true-story dramedy, Can You Ever Forgive Me. But when it comes to the broad comedies that America flocks to, if it ain't broke, why fix it? Besides, McCarthy and Falcone seem like a power couple that can rule the comedy scene while John Krasinski and Emily Blunt take over horror. It's a win-win.
You can see McCarthy and Falcone next in Life of the Party on May 11, 2018.