'Deadwood' Movie Might Start Shooting In October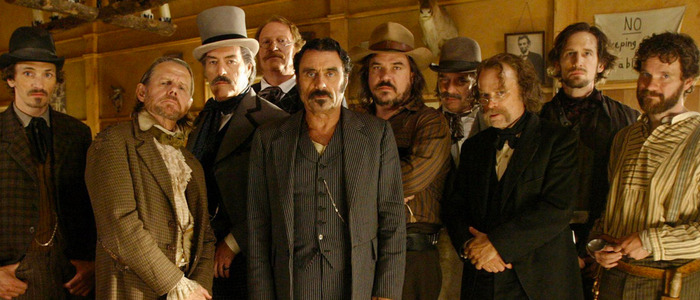 Breaking news: Timothy Olyphant is a damn liar. Mere days after Mr. Olyphant broke our hearts and claimed the Deadwood movie had no chance of happening, word comes that HBO might start shooting the film as soon as October. We're onto you, Olyphant.
Here's some good news for a change! The Deadwood movie might start shooting in October! Deadline reports that the Deadwood movie just received a $4.195 million California tax incentive. As Deadline puts reveals, "According to the California Film Commission regulations, a film or a TV series generally has to start principal photography within 180 days of being approved for a tax credit in order to receive it, though exceptions are being made in special circumstances. That means that Deadwood should start filming by the beginning of October."
In other words: the Deadwood movie is probably happening after all. HBO and Deadwood creator David Milch have been talking about a Deadwood movie ever since HBO pulled the plug on the series in 2006. The prospects of the film have gone from good to bad to good again over the course of the years. Everything seemed to be on track, and then, a few weeks ago, Timothy Olyphant had to go and be a jerk about it.
Olyphant, who played volatile lawman Seth Bullock on the show, said he thought there was "no fucking way" a Deadwood movie would ever happen. To his credit, Olyphant did add that despite his doubts, he was hopeful that the Deadwood film might come together some day:
"I am hopeful. I mean I'm ... I'm... I'm a huge fan of David Milch. The man means the world to me. It's one of the most amazing creative experiences I've ever been able to be apart of, and I'd love to be ... you know when you do these things you really miss the people. It would just be a lovely excuse to get all those people back together..."
Deadwood ran from 2004 to 2006 on HBO. It was a brilliant, brutal, exceedingly well-written and well-acted Western that ranks with some of the best original programming HBO ever created. After HBO cancelled the show following its third season, series creator David Milch said he hoped to wrap up the show with two HBO movies. Nothing came of this for several years. Then, in 2016, HBO programming president Michael Lombardo said:
"David has our commitment that we are going to do it. He pitched what he thought generally the storyline would be — and knowing David, that could change. But it's going to happen."
Since then, the Deadwood movie has been in the works, with Milch writing several different screenplays. Now, it seems like it's all about to pay off. It's unlikely that HBO would file for this tax credit if they didn't have every intention of moving forward, and moving forward soon.