'Terminator' Sequel Casts 'Rock Of Ages' Actor Diego Boneta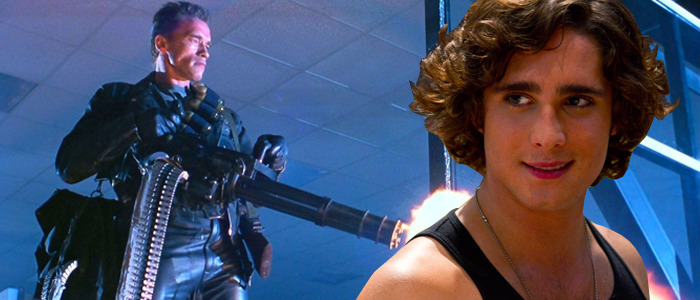 Deadpool director Tim Miller is hard at work on his untitled Terminator sequel, and while the new film has a few of the major players in the franchise returning – including Arnold Schwarzenegger, Linda Hamilton, and producer James Cameron – it's looking for some fresh blood, too. Diego Boneta (Rock of Ages) has reportedly snagged a key role in the upcoming movie, and although his role is being kept a secret, we can use what we know about this movie to speculate about who he might be playing. Join us below as we take a closer look at the new Terminator Diego Boneta casting.The Hollywood Reporter says Boneta (Scream Queens) "has nabbed a key role" and is in negotiations to officially come on board and join Schwarzenegger, Hamilton, and Mackenzie Davis (Blade Runner 2049) in the new movie, which will serve as a direct sequel to 1991's Terminator 2: Judgment Day. Schwarzenegger, of course, will be reprising his role as the T-800, and Linda Hamilton is back as Sarah Connor, who we've seen transform from a waitress into a hardened warrior after her fateful encounter with Kyle Reese. Davis will play a soldier-assassin from the future.
Who Will Diego Boneta Play in the New Terminator?
Details about Boneta's role are not officially being revealed at this time (aside from the fact that he'll play a human), but let's dig back through what we know to see if we can posit a guess. Last year, Cameron spoke about how they're looking for an 18-year-old woman to serve as the movie's new lead character. A couple of months later, a report specified that Cameron and Miller were looking for a Mexican actress to play that character, who will be named Dani Ramos. That same report said the film will (at least partially) take place in Mexico City, and the team was on the hunt for a Latin actor with fighting and stunt experience to play a new villain.
Having seen Boneta as the skinny, wide-eyed love interest in the 2012 jukebox musical Rock of Ages, it's pretty clear he's not being sought to play a villain here (or if he is, the production is really going out on a limb). Factoring in his slight build and relatively young age (he's 27), it seems more likely that he'll play an ally of Dani Ramos in the new Terminator, a character who will likely stick around for the duration of a planned trilogy. But hey, casting him as a villain – maybe a new Terminator who sings power ballads? – would certainly turn some heads, and this franchise desperately needs some new energy after a number of underwhelming entries. Hell, at this point, they should consider turning the whole thing into a musical.
Paramount and Skydance will release the untitled Terminator sequel in theaters on November 22, 2019.