Platinum Dunes Is Done With Remakes, Will Focus On Original Horror Movies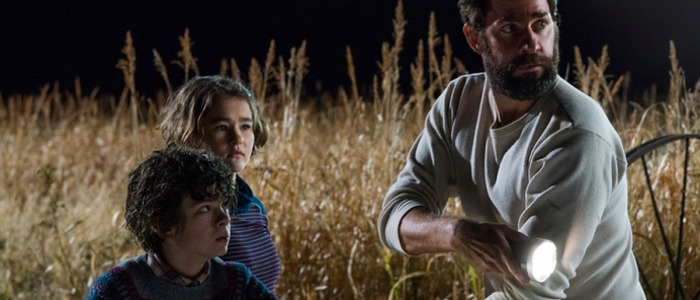 Horror reboots were prevalent for a while, particularly from production company Platinum Dunes. Now, however, more and more producers are catching on to the fact that original horror can bring in a crowd. As a result, Platinum Dunes has vowed to ditch remakes and reboots entirely and focus on original horror and genre films. So say goodbye to Platinum Dunes horror remakes.
A Quiet Place has been a big hit for Platinum Dunes, both critically and financially. This success, along with the success of The Purge franchise, which Platinum Dunes also produces with Blumhouse, have clearly taught the company that original horror can bring in the crowds just as much as a remake – maybe even more so. In a recent chat with CinePOP, Platinum Dunes co-founders Brad Fuller & Andrew Form revealed that they were likely done with remakes, and would be devoting more time to original genre pictures.
"We've rebooted enough," Fuller said. "We've done all of our [rebooted] horror movies. We're not going to be doing that anymore." Form added:
"For us, as a company, we're always looking for original material. And the idea of finding something original was important for us. We made a film where there's two to three minutes of talking in the movie, where sound is a full character, and it feels like audiences are really responding to those ingredients."
Platinum Dunes was founded Fuller, Form and Michael Bay. The company launched itself with a remake of The Texas Chainsaw Massacre. While that film couldn't hold a candle to Tobe Hooper's original, it's surprisingly good, and loaded with style and dread. From there, however, the quality of Platinum Dunes horror remakes dropped considerably. They followed up Texas Chainsaw with a remake of The Amityville Horror, which is notable for introducing the world to Ryan Reynolds' brand new abs and little else.
After that, Platinum Dunes released a terrible remake of The Hitcher, a Friday the 13th remake that has many defenders (although I personally think it's a disappointment), and a truly atrocious remake of A Nightmare on Elm Street, featuring the worst performance of Rooney Mara's career.
There's been a boom in original horror in recent years, thanks, in part, to frequent Platinum Dunes collaborator, Blumhouse. The Purge franchise, co-produced by Platinum Dunes and Blumhouse, has been a big hit at the box office. Blumhouse's Get Out became a cultural phenomenon and even took home an Academy Award for Best Original Screenplay. And now, Platinum Dunes' A Quiet Place is reigning supreme at the box office, taking in $50 million domestically this weekend alone.
While good horror remakes exist – see David Cronenberg's The Fly or John Carpenter's The Thing – there's something more appealing about an original horror movie bringing something new to the table. If Platinum Dunes really wants to embrace original concepts over remakes, I salute them. Next up, however, they'll be producing a live-action Dora the Explorer movie, so let's not celebrate just yet.