'The Magic Order' First Look: Mark Millar Unveils His First Comic Book For Netflix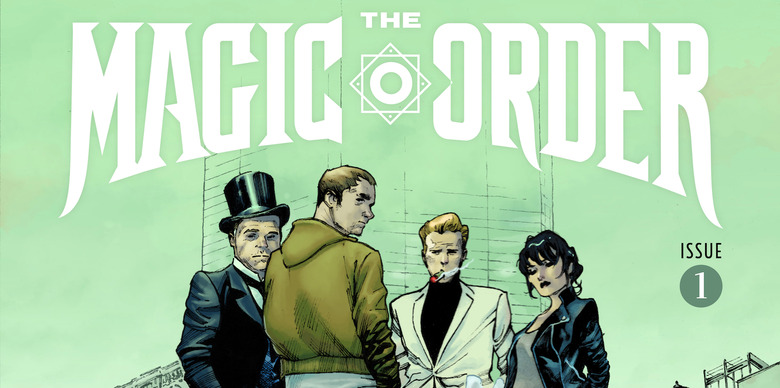 The first comic book series to come out of Netflix's purchase of Millarworld is here. At Chicago's C2E2 this weekend, Kick-Ass and Kingsman creator Mark Millar previewed his first series in his exclusive deal with Netflix, The Magic Order.
See The Magic Order first look below.
In August 2017, Netflix acquired Mark Millar's Millarworld in a deal that would allow the comic book creator and the streaming service to develop films, TV shows and kids' series based on Millarworld series. And now that unique deal has borne its first series.
The Magic Order is a magical fantasy-crime series that is like "The Sopranos meets Harry Potter," Millar told Entertainment Weekly in an interview ahead of his C2E2 appearance. Written by Millar and drawn by Marvel stalwart Olivier Coipel (Thor, The Avengers, The Amazing Spider-Man), The Magic Order is a six-issue long series that follows five families of magicians sworn to protect the world who are faced with an enemy slowly picking them off.
Millar unveiled The Magic Order at C2E2 this weekend, promoting the series two months before it goes on sale beginning June 13, 2018.
The Magic Order is the first series that Millar will produce for Netflix. It's the first comic book that Netflix has helped produce, with the intention of adapting it into a Netflix original TV show or movie. It's part of the streaming service's insanely ambitious push for content, which will hit around 700 movies and shows in 2018. And now Millar joins the legions of producers, showrunners, and filmmakers creating content for Netflix. But Millar stands out because he'll be writing the comics before turning them into TV or movies.
"What I do now is I basically create movies and TV shows for Netflix internally," Millar explained to EW. "So I don't create them as comics first, I just create them as stories within their system. I love doing comics, so part of my deal was as well as creating this new content and shepherding the old content over the next few years, I also want to do some comics on top of that, too. I'll be doing about four graphic novels a year, which is about 20 issues, which is generally what I can do in an average year."
Here is the official synopsis for The Magic Order:
We live in a world where we've never seen a monster and these people are the reason we sleep safely in our beds. Magic meets the mob in The Magic Order, as five families of magicians sworn to protect our world for generations must battle an enemy who's picking them off one by one. By day they live among us as our neighbors, friends and co-workers, but by night they are the sorcerers, magicians and wizards that protect us from the forces of darkness...unless the darkness gets them first.