'Ideal Home' Trailer: Paul Rudd & Steve Coogan Start A Family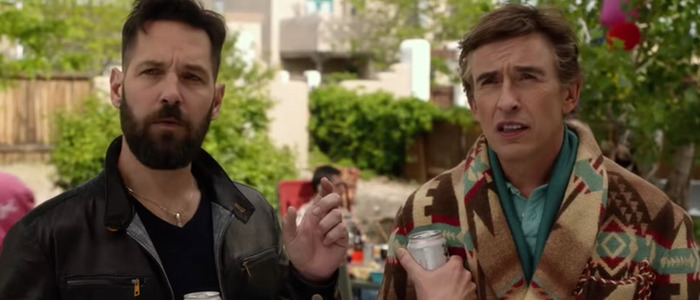 The Ideal Home trailer teams very funny people Paul Rudd and Steve Coogan as a gay couple who suddenly find themselves raising a kid. Plenty of wacky hijinks and jokes about Taco Bell follow! Also: Paul Rudd has a great haircut. What more do you need?
Alright, I'll be blunt: this doesn't look great. The trailer for Ideal Home is loaded with stereotypes and tired jokes that would seem dated even a decade ago. It's also worth noting that the film shot over two years ago, in 2016. But Ideal Home also features some very talented people: Paul Rudd and Steve Coogan. So...maybe it'll turn out okay? Watch the Ideal Home trailer below and decide for yourself.
Ideal Home Trailer
Coogan and Rudd play a gay couple who find their lives turned upside down when a ten-year-old boy arrives at their home, claiming to be Coogan's grandson. The couple clearly isn't ready to raise a child together, but they decide to give it a go. You can probably guess where it goes from here: lessons will be learned, jokes will be made, bickering will commence.
Again, I don't want to judge a film too harshly by its trailer, but...yikes. This should look a lot better than it does, especially with funny people like Rudd and Coogan on hand (Alison Pill makes an appearance as well!). The best thing I can say about this trailer: Paul Rudd's haircut looks really cool. I've never seen Rudd with a haircut like this, and it suits him well. Then again, Paul Rudd ages like a fine wine, so he'd probably look good in any haircut.
Ideal Home comes from director Andrew Fleming, who also helmed the teen witch horror film The Craft and the hilarious Watergate comedy Dick, so, again, maybe this will turn out better than the trailer suggests.
In addition to Rudd and Coogan, Ideal Home also stars Jake McDorman. The film will debut at the 2018 Mardi Gras Film Festival and opens in Australia on June 21, 2018. No U.S. release date has been set yet.
Steve Coogan and Paul Rudd star as Erasmus and Paul, a bickering gay couple whose life is turned inside out when a ten-year old boy shows up at their door claiming to be Erasmus' grandson. Neither Paul, nor Erasmus, are ready to give up their extravagant lifestyles to be parents, but maybe this little kid has thing or two to teach them about the value of family.