New 'Terminator' Sequel Release Date Pushed Back To Fall 2019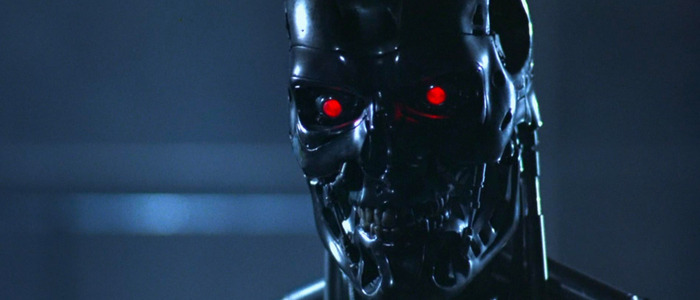 The Terminator will be back...eventually. The next entry in the ever-changing Terminator franchise was set to hit theaters on July 26, 2019, but Paramount has now pushed the film back to fall of 2019. More on the new Terminator sequel release date below.
Tim Miller is working on a new Terminator film, with original Terminator mastermind James Cameron producing. But we're going to have to wait a little longer to see it. The Hollywood Reporter confirms that Paramount has shuffled the still-untitled Terminator sequel back to November 22, 2019. This isn't a huge push – the film was originally set for July 26, so this is only a few months. There have been far more drastic release date bumps recently, like Fox' New Mutants, which has had two big release date changes that moved it from April 2018 to August 2019.
There's no word yet on what has caused the Terminator date shuffle, but it could have to do with special effects work. Or perhaps the script needs a quick retooling. It could also have to do Arnold Schwarzenegger's recent heart surgery. Schwarzenegger is set to return for the film, but the actor had to undergo emergency heart surgery a few days ago. Perhaps he needs more time to recover, and this is interfering with shooting.
Miller's Terminator is being billed as a direct sequel to Terminator 2: Judgement Day. The multiple Terminator sequels that followed that film – Terminator 3: Rise of the Machines, Terminator: Salvation and Terminator: Genisys – will be virtually ignored. The plan is for Miller's film to reboot and possibly conclude the franchise. The Terminator sequels after Terminator 2 haven't had the best track record, but Miller's film has an advantage: original Terminator director James Cameron is involved, serving as producer and contributing to the story for the film.
"This is a continuation of the story from Terminator 1 and Terminator 2. And we're pretending the other films were a bad dream," Cameron said. "Or an alternate timeline, which is permissible in our multi-verse. This was really driven more by [Tim] than anybody, surprisingly, because I came in pretty agnostic about where we took it. The only thing I insisted on was that we somehow revamp it and reinvent it for the 21st century."
Specific plot details of Miller's Terminator are still a secret, but Hunger Games writer Billy Ray was recently brought on board to work on a script that's already had input from David Goyer (Man of Steel), Justin Rhodes (Green Lantern Corps.), Charles Eglee (Dark Angel) and Josh Friedman (Avatar 2).
In addition to Schwarzenegger, the upcoming Terminator sequel will also bring back original Terminator star Linda Hamilton. Blade Runner 2049 actress Mackenzie Davis is also part of the cast.