'Empire Records' Musical Being Developed For Broadway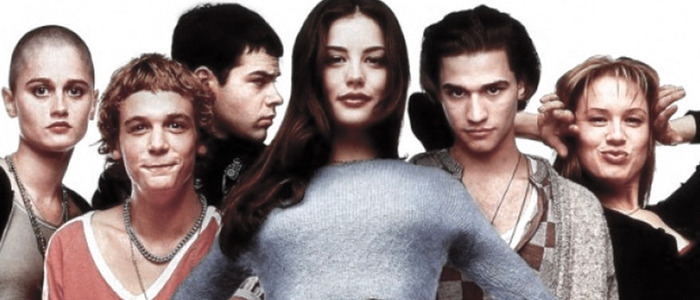 You might soon be celebrating Rex Manning Day on Broadway. Empire Records, the cult comedy that some people really love, is being developed as a musical with hopes of a Broadway run in 2020. There's only one question: will GWAR recreate their cameo for Broadway?
The 1995 comedy Empire Records is set in a record store, so it makes a certain sense to re-develop the story as a musical. And that's just what original Empire Records writer Carol Heikkinen is doing, along with Broadway by producer Bill Weiner, with new music and lyrics by Zoe Sarnak.
The Empire Records musical will retell the tale of a day in the life of bored record store clerks as they struggle with their various problems. "The movie was really about a family that formed among these minimum-wage record clerks," says Carol Heikkinen. "There's a lot of nostalgia now for those old record stores where you could go and talk to people who loved the same music you loved, and discover new bands."
Sarnak adds:
"I first saw Empire Records when my older sister brought it home on VHS – I remember sneaking into the TV room while she was watching it with her friends. Over the years, I watched it again and again because that cast – those characters – were my idea of the coolest misfits. Teenagers who loved music as much as I did, and still do. The film's music so iconically captured the sound of that decade – a sound that has indelibly shaped my own aesthetic."
I'm assuming the Empire Records musical will get a lot of mileage out of the very '90s nostalgia of the story. Empire Records is a very '90s movie, loaded with flannel, acid wash and clogs. I must confess I missed the boat on Empire Records. While I was the right age to get swept up in the film, I never took to it the way most of my peers did. The film underperformed at the box office, only to find a new audience on home video.
"I am beyond thrilled to bring this iconic film to the Broadway stage," producer Weiner added. "As a film, Empire Records captured the hearts of millions of Americans, and I am so excited for Carol's words and vision to be brought together with Zoe's incredible music and lyrics. They both have such a passion for the story and its time."
Empire Records Trailer
Empire Records starred Rory Cochrane, Johnny Whitworth, Robin Tunney, Renée Zellweger and Liv Tyler as disaffected youths working at independent record store Empire Records, managed by Anthony LaPaglia. The record store runs into financial difficulties, and the staff has to scramble to save Empire Records before all is lost. Here's the full synopsis.
Joe (Anthony LaPaglia) runs Empire Records, an independent Delaware store that employs a tight-knit group of music-savvy youths. Hearing that the shop may be sold to a big chain, slacker employee Lucas (Rory Cochrane) bets a chunk of the store's money, hoping to get a big return. When this plan fail

s, Empire Records falls into serious trouble, and the various other clerks, including lovely Corey (Liv Tyler) and gloomy Deb (Robin Tunney), must deal with the problem, among many other issues.
If Empire Records does head to Broadway, it'll just be the latest in a long-line of films that find their way to the stage. Tina Fey's Mean Girls recently leapt from film to Broadway, and Disney just brought their animated hit Frozen to Broadway as well.