'Harry And Meghan: A Royal Romance' Trailer: Lifetime Cashes In On Prince Harry And Meghan Markle's Upcoming Nuptials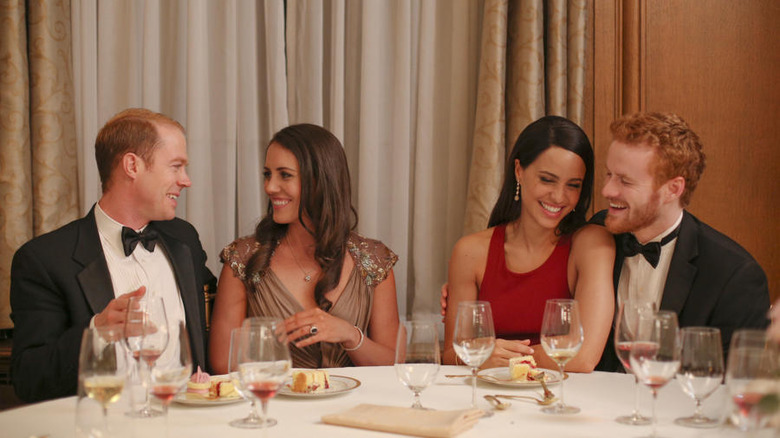 Nothing spells love like a Lifetime movie looking to cash in on your upcoming wedding. Harry and Megan: A Royal Romance is the latest Lifetime movie adaptation about love, beauty, and rich royalty.
Don't scoff, you know you're going to watch it.
Harry and Meghan A Royal Romance Trailer
Are you ready for this? Tune in to watch the love story of the year. Harry & Meghan: #ARoyalRomance premieres May 13th at 8/7c. 🤴🏼❤️👸🏽 pic.twitter.com/tiq1tuVFgy

— Lifetime (@lifetimetv) April 6, 2018
It was a love story right out of a Lifetime movie: handsome, partyboy prince meets a beautiful American commoner. Soon, they embark on a whirlwind romance of overnight trips, top-secret dates, and shocking public kisses, he ignoring the conservative British public's disdain for an American divorcée and she stepping back from her career in acting.
Before you know it, it's wedding bells for Meghan and Prince Harry. Which naturally means an actual Lifetime movie was soon to follow. After their first romantic TV movie about the unprecedented courtship of Prince William and Kate Middleton did gangbusters for Lifetime's ratings, every middle-aged mother's favorite channel is premiering Harry and Meghan: A Royal Romance. Parisa Fitz-Henley and Murray Fraser play the rosy-cheeked Lifetime versions of Meghan and Harry, in the TV movie that follows them meeting, falling in love, and buying giraffes for each other. They make each other happy — but is that enough?
"She's American. She's divorced—are you ready for this?" Laura Mitchell's Kate Middleton asks Harry.
"She makes me happy, so to hell with tradition!" Harry dramatically responds.
Only on...Lifetime.
This Lifetime movie actually brings things full circle for Markle, who played her fair share of love interest in two romantic TV movies. She starred as the career journalist who accidentally stumbles on a story — and love — in the Hallmark Channel's When Sparks Fly in 2014, then played a successful businesswoman in everything but love in 2016's The Dater's Handbook.
Harry and Meghan: A Royal Romance also stars Burgess Abernethy as Prince William and Steve Coulter as Prince Charles. It premieres just in time for the actual wedding ceremony of Prince Harry and Meghan Markle on May 19.Harry and Meghan: A Royal Romance premieres on Lifetime on Sunday, May 13, 2018.
Meghan and Harry meet after being set up by friends. They keep their initial courtship a secret before going public and dealing with the intense media attention.