Is The 3D Movie Trend Finally Dying?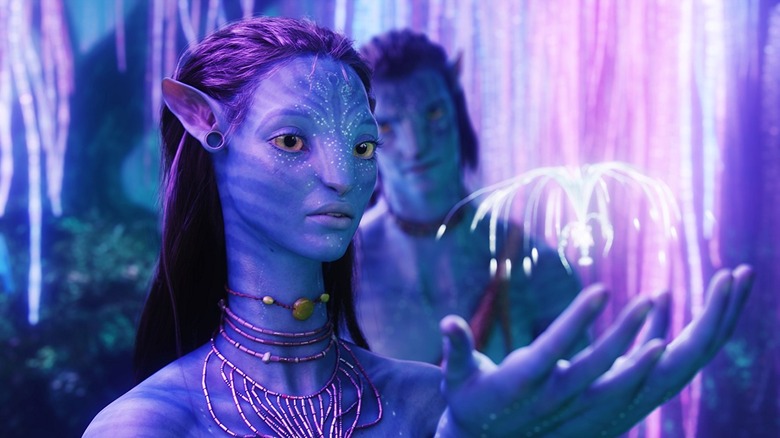 3D movies might soon be 3-dead.
3D box office revenues have taken a steep dive, with box office sales at their lowest level in eight years. It may finally be time to say sayonara to those bulky tinted glasses.
A report by the Motion Picture Association of America finds that box office revenues for 3D films in the U.S. and Canada have fallen 18% in 2017 to $1.3 billion, Variety reports. That's the worst showing for 3D movies in eight years. In 2010, 3D movies sold $2.2. billion in revenue — nearly double the amount generated in 2017.
The decline of 3D box office sales have coincided with an overall drop in the domestic box office. Audiences are going to the movie theaters less, and pricey tickets like 3D — which can be $3 to $4 more than a regular ticket — are suffering the most.
The numbers for 3D movies have been rapidly falling since Avatar opened in 2009 and seemingly revived the format — though at this point, it seems like more of a fluke than a signifier of a trend.
3D movies have been around in some form since 1915 — reaching new heights of popularity in the '80s and again in the mid-2000s — but few filmmakers have tested the limits of the technology like James Cameron did with Avatar. Directors like Alfonso Cuaron and Martin Scorsese have experimented with the format in critically acclaimed films like Gravity and Hugo, but the format is mostly seen in ugly, cheap conversions of blockbusters like Clash of the Titans.
3D's dramatic drop in popularity follows last summer's report that IMAX is phasing out its 3D screens, citing reports that audiences have a "clear preference" for digital 2D versions of movies. 3D movies are just not profitable anymore, and the industry is beginning to take notice.
The number of digital 3D screens in general have reportedly increased just a percentage point in 2017. Studios have been more conservative about greenlighting 3D films, and the number of 3D releases in 2017 dropped 15% to 44. Last year, there were 52 3D films, according to Variety.
I would be overjoyed on the day that 3D finally bites the dust. The tinted glasses overly darken the screen, and the rare effects that cater to the technology often only serve to make me woozy. Apart from Avatar, no 3D movies have leaned into the experience of it all. And experience is something we're getting in new trendy formats like 4DX or VR — though I'm not sure how successful those will be in the long run either.