The 'Harry Potter: Hogwarts Mystery' Video Game Has Some Familiar Voice Actors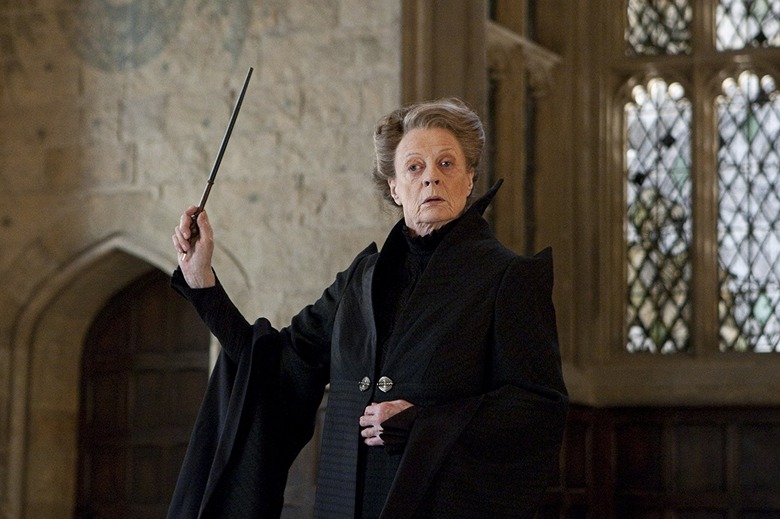 Harry Potter may not be coming to Harry Potter: Hogwarts Mystery, but a few familiar actors will be.
The upcoming Harry Potter mobile game is bringing back a number of the franchise's movie actors to reprise their characters in virtual form. That's right, this is your last chance to see Maggie Smith and Michael Gambon reprise their roles as Professor McGonagall and Professor Dumbledore in the Harry Potter Hogwarts Mystery voice cast.
Entertainment Weekly reports that Smith will once again voice the school's Transfiguration professor, alongside Warwick Davis returning as Charms Professor Flitwick, Sally Mortemore as the librarian Irma Prince, Gemma Jones as Madam Pomfrey, Zoe Wanamaker as Madam Hooch, and Gambon as the wizened Hogwarts headmaster, Professor Dumbledore.
You can see all the actors rendered in pixel form below.
Smith said in a statement accompanying the Harry Potter Hogwarts Mystery voice cast announcement:
"If I could attend Hogwarts as a student, I would be most excited to attend the potions class taught by Severus because it is the most exotic."
Each of the above actors will be playing the characters they made iconic in the original Harry Potter series, which makes this video game infinitely more interesting.
The mobile game, which will be available on iOS and Android platforms, allows fans to experience attending Hogwarts themselves. Not only will they be able to do all the rosy, comforting things associated with Hogwarts — get Sorted, attend classes, learn spells, and make potions — users can flirt with danger by going on missions or forming enemies.
Harry Potter: Hogwarts Mystery seems like next step in the magical evolution for Harry Potter. It combines the mission-centric games of Harry Potter Gameboy games (shout out to the best Gameboy game, Chamber of Secrets) with the customizable appeal of Pottermore. But the genius of it is removing the central character, Harry Potter, altogether. Instead, Harry Potter: Hogwarts Mystery takes place a few decades before Harry ever stepped into Hogwarts, allowing users to meet familiar professors and faces, but not worry about whether Voldemort will come to kill you.
"Our goal with Harry Potter: Hogwarts Mystery is to make players really feel for the first time like they're attending Hogwarts," Chris DeWolfe, co-founder and CEO of Jam City, said. "By including these iconic and incredibly talented actors in the game, we come one step closer to truly giving fans their own Hogwarts experience."
Harry Potter: Hogwarts Mystery will debut on iOS and Android platforms on April 25, 2018.