'Johnny English Strikes Again' Trailer: Rowan Atkinson Is Back For More Pratfalls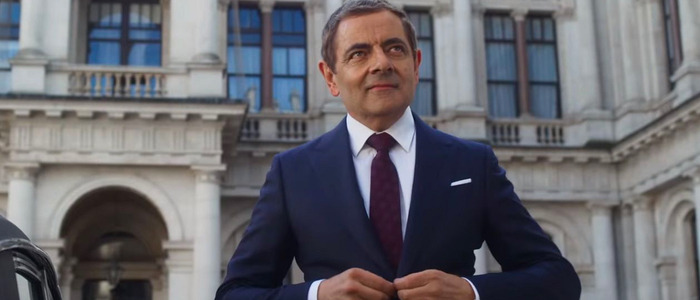 Johnny English is back, again, with Johnny English Strikes Again. Rowan Atkinson returns as the well-meaning but woefully inept secret agent for the third (!) Johnny English movie. The Johnny English Strikes Again trailer is below.
I don't have anything against the Johnny English series, but I have a bone to pick with a particular trailer trope on display here. That is: the "let's start our comedy trailer off pretending this is a serious movie, only to pull the rug out!" trope. You might as well insert a generic record scratch sound if you're going to do that. It's tired, and we as a society of trailer-watching individuals should move on from it.
Okay, now that that's out of the way, here's the Johnny English Strikes Again trailer!
Johnny English Strikes Again Trailer 
Johnny English Strikes Again finds Rowan Atkinson's bumbling secret agent called out of retirement and dealing with the fallout of a cyber-attack. Much falling down follows. They've somehow made three of these Johnny English movies, so someone, somewhere, is enjoying them. Rowan Atkinson is a pro, so even if Johnny English Strikes Again fails to live up to the dizzying heights of the original Johnny English and it's award-winning sequel Johnny English Reborn, I'm sure he'll find a way to get a few laughs.
This franchise is, of course, inspired by the endless James Bond films, and Johnny English Strikes Again has the distinction of featuring a former Bond Girl – Olga Kurylenko, who co-starred in Quantum of Solace. As Eon Productions struggles to get Bond 25 off the ground, perhaps you can find comfort knowing that Johnny English 3 had a quicker turnaround time. It might be a little while before we see Bond 25, but at least we have Johnny English to hold us over.
Johnny English Strikes Again, directed by David Kerr and starring Rowan Atkinson, Olga Kurylenko, Ben Miller, Emma Thompson, Jake Lacy, Miranda Hennessy, Tuncay Gunes, and David Mumeni, will stumble into theaters later this year.
JOHNNY ENGLISH STRIKES AGAIN is the third installment of the Johnny English comedy series, with Rowan Atkinson returning as the much loved accidental secret agent. The new adventure begins when a cyber-attack reveals the identity of all active undercover agents in Britain, leaving Johnny English as the secret service's last hope. Called out of retirement, English dives head first into action with the mission to find the mastermind hacker. As a man with few skills and analogue methods, Johnny English must overcome the challenges of modern technology to make this mission a success.