Pop Culture Imports: A Gorgeous Bollywood Epic, Two Heart-Wrenching World War II Films, And A Quirky Korean Variety Show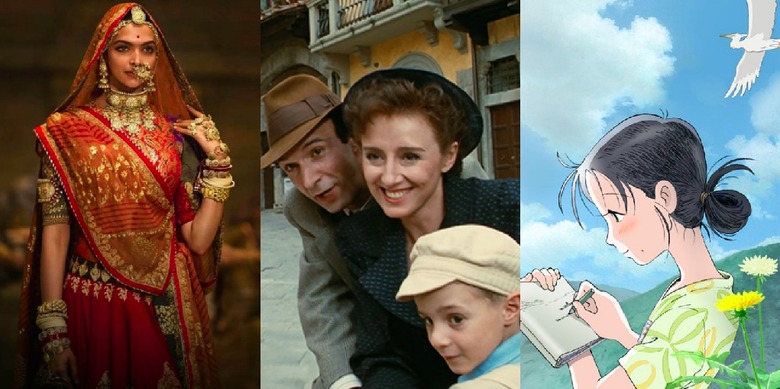 (Welcome to Pop Culture Imports, a column that compiles the best, wackiest, and weirdest foreign-language movies and TV shows streaming right now.)
We're a week into April, which means it's time for your biweekly dose of Pop Culture Imports. And if you're bitter at the sudden waves of warmth outdoors (not to mention the allergies), make yourself comfortable to watch some sobering and stunning foreign-language movies.
This month we have a controversial but lavish Bollywood epic, two strikingly different World War II-set dramas, a Dutch drama that takes a microscope to radicalization, and a quirky Korean variety show.
1. Padmaavat – Amazon
Country: IndiaGenre: Historical epicDirector: Sanjay Leela BhansaliCast: Deepika Padukone, Shahid Kapoor, Ranveer Singh, Aditi Rao Hydari, Jim Sarbh, Raza Murad, Anupriya Goenka.Padmaavat is one of the most expensive — and controversial — Indian films of all time. And it shows. This opulent historical drama is a stunning piece of visual art, even if the story it tells is more than a little troubling. Bollywood films never skimp on production value, often orchestrating elaborate set pieces that will appear for only a few seconds in an even more elaborate musical number. But Padmaavat is more than just the money thrown at it.Padmaavat is a sumptuous telling of the 14th century epic poem "Padmavat," about a beautiful and noble Rajput queen who becomes the source of obsession for a conquering Muslim sultan. The titular queen, Padmavati has become deified as a symbol of female honor in India, because of her self-immolation or jauhar, in the face of an invading army bent on raping and killing her. It's unquestionably a problematic character to base your movie around in the face of India's ongoing issue with "honor killings."
But despite its nationalistic leanings, Padmaavat in no way lionizes the rite of self-immolation. Instead, the nearly 3-hour epic is a sweeping tale of political intrigue and awe-inspiring mythology. And the character of Padmavati herself, played by with a deep vulnerability by Deepika Padukone, is as achingly real as she is beautiful. There is almost a secret progressiveness to this film — from the masked homoeroticism between Sultan Alauddin Khilji (Ranveer Singh) and his slave Malik (Jim Sarbh) to the chastely sensual Holi scene between Padmavati and her husband King Ratan Singh (Shahid Kapoor). All of this character intrigue is set to the backdrop of some of the most gorgeous Bollywood set pieces of all time — even if you're taken out of it every now and then by a bad CGI ostrich.
Watch This If You Like: Game of Thrones, Bajirao Mastani, Crouching Tiger, Hidden Dragon, The Fall, Bollywood dance videos.
2. Life is Beautiful – Netflix
Country: ItalyGenre: Comedy-dramaDirector: Roberto BenigniCast: Roberto Benigni, Nicoletta Braschi, Giorgio Cantarini, Giustino Durano, Sergio Bini Bustric, Marisa Paredes, Horst Buchholz.
The first of our World War II-set movies this week, Life is Beautiful is an unusual weepie. The Oscar-winning Italian movie was initially criticized upon its release for making light of the Holocaust by centering the film around a goofball character, played by director Robert Benigni. But that should not be the case at all.
Life is Beautiful is a whimsical ode to the strength of humanity. The film follows a mischievous Jewish waiter named Guido who falls in love with a schoolteacher and sweeps her off her feet away from her rich fiance. But their blissful happiness is cut short a few years later when they're arrested by German soldiers and taken to a concentration camp with their young son. Desperate to keep his son from finding out the truth about their horrible situation, Guido invents an imaginative game that will keep him occupied and ignorant from the horrors taking place at the camp. Life is Beautiful is a lovely, affecting film that alleviates the pain of one of the worst tragedies in history by highlighting the indomitability of the human spirit. You'll laugh, you'll cry, and you'll find yourself hoping again.Watch This If You Like: Schindler's List, The Pianist, Tea with Mussolini, crying.
3. In This Corner of the World – Netflix
Country: JapanGenre: Anime, period dramaDirector: Sunao KatabuchiCast: Yoshimasa Hosoya, Natsuki Inaba, Minori Omi, Daisuke Ono, Megumi Han, Shigeru Ushiyama, Mayumi Shintani.In This Corner of the World is another lovely, profound film about the wonders of humanity in the face of inhumanity. But this stunning anime film is not quite as cloying as many World War II dramas before it.In This Corner of the World follows the life of Suzu, an innocent and dreamy Japanese girl who lives in the seaside town of Eba near Hiroshima. In the years before World War II breaks out, Suzu loves nothing more than to paint and draw, but her rosy childhood is cut short by the proposal of a strange man from Hiroshima. She moves to Hiroshima and becomes accustomed to life as a housewife, occasionally learning to love her new town and husband. As you'd expect, the atomic bombing at Hiroshima hangs like a phantom throughout the film, and the entire film feels like you're waiting with bated breath for tragedy to strike. But In This Corner of the World isn't about tragedy — it's about the small, lovely episodes that happen in between. The animation is soft and ethereal, painted as if by watercolors with a worn-out brush. Suzu is a sometimes frustratingly naive protagonist who marvels over everything she sees, but she gives you a more profound realization of the beauty in life. In This Corner of the World is a gorgeously personal film that somehow becomes universal.Watch This If You Like: Grave of the Fireflies, The Wind Rises, even more crying.
4. Layla M. – Netflix
Country: NetherlandsGenre: DramaDirector: Mijke de JongCast: Nora El Koussour, Ilias Addab, Hassan Akkouch, Yasemin Cetinkaya, Husam Chadat.
A movie that follows a teenage Muslim girl's radicalization would be difficult to pull off without a powerhouse performance from its protagonist. But lead actress Nora El Koussour more than delivers. El Koussour gives a powerful, caustic, and aggressively good performance as the titular Layla M., a dissatisfied teen girl in Amsterdam who grows increasingly disillusioned with her family and country in the face of the government's anti-Muslim measures. She finds herself increasingly drawn to fundamentalism and falls for a young jihadist Abdel (Ilias Addab) whose passion and idealism she admires. But when she runs away with Abdel to join an Islamist cell in the Middle East, she is shocked by the prejudices awaiting her there.
Layla M. has a difficult path to navigate, balancing its caring portrayal of Layla with a condemnation of the very ideas that she spouts. And it does it masterfully. The film, which was selected by the Netherlands to be its entry into the Best Foreign Language film race at the Oscars, offers a compelling look at the route to radicalization thanks to the multi-dimensional performances from its entire cast. Layla's romance with Abdel feels refreshingly warm and real, and Layla is a fascinating protagonist who you can't help but sympathize with.Watch This If You Like: Trainspotting, Good Bye Lenin!, watching BBC news.
5. Men on a Mission – Netflix
Country: South KoreaGenre: Variety showCreator: Jo Seung-wookCast: Kang Ho-dong, Seo Jang-hoon, Kim Young-chul, Lee Soo-geun, Kim Hee-chul, Min Kyung-hoon, Lee Sang-min.
Korean variety shows exist on another level. A combination of slapstick, wordplay, and educational quizzes, Korean variety shows test every aspect of your mental ability — while throwing hundreds of jokes at you, hoping that you may laugh at maybe one. The current standout show: Men on a Mission.
Men on a Mission initially premiered as a show with virtually no format to speak of in 2015, hosted by comedians Kang Hodong, Lee Soogeun, Kim Youngchul, musicians Kim Heechul, Min Kyunghoon, Lee Sangmin, and national sports star Seo Janghoon. After the show was nearly cancelled several times, Men on a Mission reinvented itself as "Brother School," a program where all the hosts dressed up in school uniforms and held the show in a classroom where they would invite the celebrity du jour as "transfer students." Suddenly, viewers began to tune in. Men on a Mission became one of the most popular variety shows on Korean TV, with fans eagerly anticipating the next K-pop star or hot actor to join in on the variety of "school activities" and improvised comedy sketches. It's a fresh, inventive take on the educational game show that combines a traditional variety show with the promotional talk show format. And, most importantly, it's damn funny.Watch This If You Like: Infinity Challenge, Are You Smarter Than a 5th Grader, K-pop.