'Indiana Jones 5' Will Be Harrison Ford's Last Time Playing The Iconic Character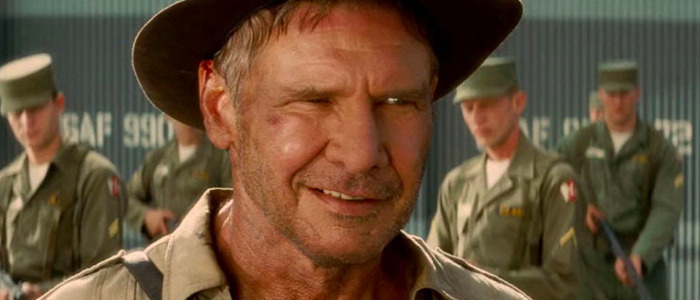 Harrison Ford is about ready to hang up his fedora for good. The actor will play Indiana Jones again in Indiana Jones 5, but according to Steven Spielberg, Indy 5 will be Ford's last time cracking the whip. Spielberg doesn't rule out future Indiana Jones movies, though, and even weighs in on a possible female take on the character.
The days of Harrison Ford playing Indiana Jones are numbered. The actor has been playing Indy on and off again for almost 40 years, but, according to Steven Spielberg, Ford's next take on the character will be his last. Speaking with The Sun, Spielberg said, "This will be Harrison Ford's last Indiana Jones movie, I am pretty sure, but it will certainly continue after that."
This isn't the most shocking news. Ford is getting up there in age – he's 75 now, and he'll be 76 when Indiana Jones 5 starts shooting in 2019. Still, Ford hanging up Indy's fedora will signify the end of an era. As Spielberg himself says, there will surely be more Indiana Jones films in the future. There were even rumors that the series would be rebooted with Chris Pratt.
Spielberg himself weighed in on a possible female replacement for Ford. "We'd have to change the name from Jones to Joan. And there would be nothing wrong with that." Of course, Jones is the character's last name, so I'm not sure why you'd have to change the name from Jones to Joan...but maybe Spielberg is just joking. Personally, I'd be perfectly fine with a female Indiana Jones, but I'm sure someone, somewhere, on the internet will have a problem with this. Let's cross that bridge when and if we get to it.
In the past, Ford said he would return to the Indiana Jones role one more time under two conditions: Spielberg had to return, and the script had to be good. "I've always thought there was an opportunity to do another," Ford said on Jimmy Kimmel Live! "But I didn't want to do it without Steven [Spielberg]. And I didn't want to do it without a really good script. And happily we're working on both. Steven is developing a script now that I think we're going to be very happy with."
Indiana Jones fans were not very pleased with the previous Indy film, Indiana Jones and the Kingdom of the Crystal Skull. Perhaps this final Harrison Ford Indiana Jones film will remedy things, and be the perfect opportunity to let Ford go out on a high note.