'American Gods' Is Officially Recasting Gillian Anderson's Role In Season 2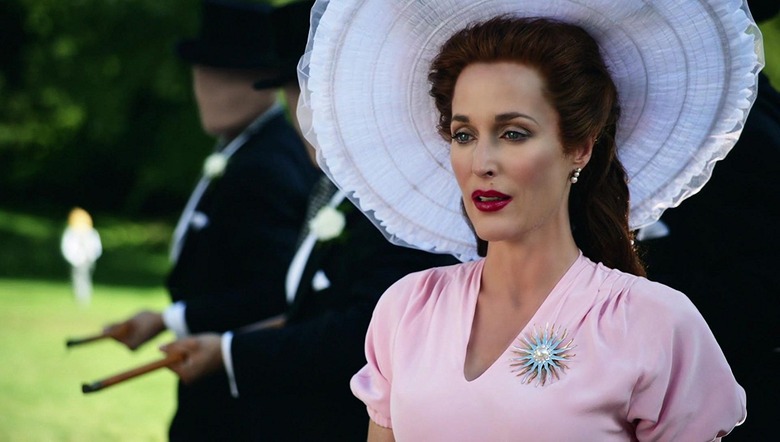 Where are your gods now?
American Gods has been undergoing some serious reshuffling after showrunners Bryan Fuller and Michael Green left the series after its first season aired on Starz. And now the first casualty of this shake-up has emerged: Gillian Anderson.American Gods is officially recasting Anderson's role of Media, TV Line reports. Anderson's scene-stealing goddess of pop culture and television is now being reworked as New Media, and looking to cast a 20-something Asian actress.
The character reportedly "symbolizes the role of social media in modern American life the same way that Gillian Anderson's Media represented television and pop culture in Season 1."
Anderson announced that she wouldn't reprise the role of the shape-shifting goddess in January, shortly after Fuller and Green departed the series. Whether this was in solidarity with Fuller and Green's vision of the show, we can't be sure, but it certainly seems that way. Anderson was a standout of the first season of American Gods, donning the forms of pop culture icons like David Bowie, Lucille Balle, and Marilyn Monroe with malevolent glee, and offering an ethereal performance that went above and beyond the already-compelling character from the novel.
But American Gods season 2 seems like it will act as a sort of soft reboot of the series. When Star Trek: Discovery alum Jesse Alexander was tapped to helm the Starz series for its sophomore season, there were reports that his plans would "ignore" the prior finale's cliffhanger. This could explain away the potential absence of another high-profile star Kristin Chenoweth, who may be departing her role as Easter after the Pushing Daisies actress joined season 2 of NBC's Trial & Error.
So not only will American Gods season 2 be boasting an array of new faces, it will likely feel like a different show from Fuller and Green's bold take. Fuller and Green were reportedly booted from the show after American Gods author Neil Gaiman was "unhappy" with the direction of season 2, "as their vision was not a straight adaptation of his source material."
While I wasn't completely enamored with all of Fuller and Green's stylistic choices in the first season of American Gods, I admired that the show felt like a different entity from Gaiman's book. The 2001 novel is one of my favorite books, but the Starz series felt like a radical and modern reinvention of it. I'll admit I'm not familiar with Alexander's work, but it will be difficult for him to follow Fuller and Green's ambitious take.
TV Line reports that production on American Gods' sophomore season is slated to begin in May. But we probably won't see American Gods season 2 until 2019.