'Star Wars: The Last Jedi' Tops The Most Profitable Movies Of 2017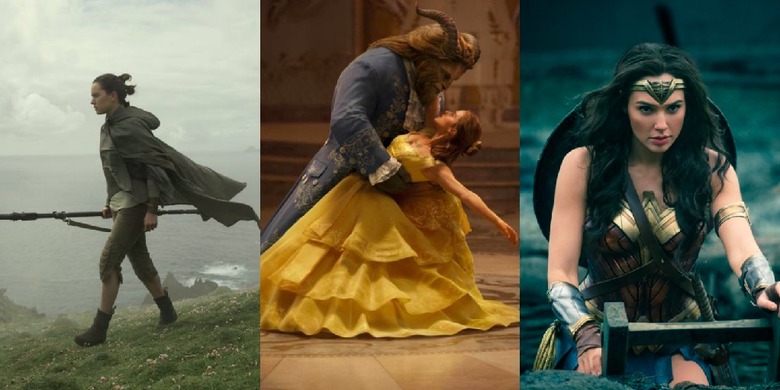 Box office reports are easy to parse through, but what about the overall net profit of a movie? And when you factor in production and marketing costs, what do the lists of highest-grossing movies really look like?
According to the new reports about the 2017 most profitable movies, not too different than what you'd expect.
Deadline released its annual list of most profitable movies, gauging the films' budgets and how much studios actually made on them. Unsurprisingly, Star Wars: The Last Jedi led the pack, raking in $1.3 billion worldwide while losing 578.3 million in costs. Its total net profit comes out to $417.5 million — an impressive haul, even if it was considered a disappointment compared to the gangbusters Star Wars: The Force Awakens performed in 2015.
The Last Jedi still came out on top of Disney's record-breaking Beauty and the Beast, and the surefire animation sequel hit Despicable Me 3. Surprise hit Jumanji: Welcome to the Jungle took fourth place, followed by the massively successful R-rated horror film It. And it's no surprise to anyone that Wonder Woman was the most profitable superhero movie of the year, beating out even Spider-Man: Homecoming and Guardians of the Galaxy Vol. 2
See the full list below:
Star Wars: The Last Jedi (DIS/Lucasfilm) – $417.5M
Beauty and the Beast (DIS) – $414.7M
Despicable Me 3 (Illumination/UNI) – $366.2M
Jumanji: Welcome to the Jungle (SONY) – $305.7M
It (New Line/WB) – $293.7M
Wonder Woman (WB/DC) – $252.9M
Spider-Man: Homecoming (SONY/Marvel) – $200.1M
Thor: Ragnarok (DIS/Marvel) – $174.2M
Guardians of the Galaxy Vol. 2 (DIS/Marvel) – $154.7M
Get Out (UNI/Blumhouse) – $124.3M
Get Out's huge numbers are a pleasant surprise, capping off an amazing, awards-winning, Oscar-nominated year for the little Blumhouse horror film that could.
One interesting thing to note, however, is the dominance of Disney on this list. Disney and Disney-owned properties, Marvel and Lucasfilm, take five of the 10 slots on the 2017 most profitable movies list. However, 2017 was an astonishing year for surprise horror hits, with both It and Get Out becoming bonafide pop culture phenomenons.
It makes me wonder what 2018's year-end box office list will look like. Black Panther and its record-breaking run is guaranteed a spot at the top of the list, but what could fill out the rest? More Disney and Marvel, to be sure. But maybe we're in for another surprise horror or animated breakout film.