Deadpool Wears Pink To Raise Funds For 'F*** Cancer' Initiative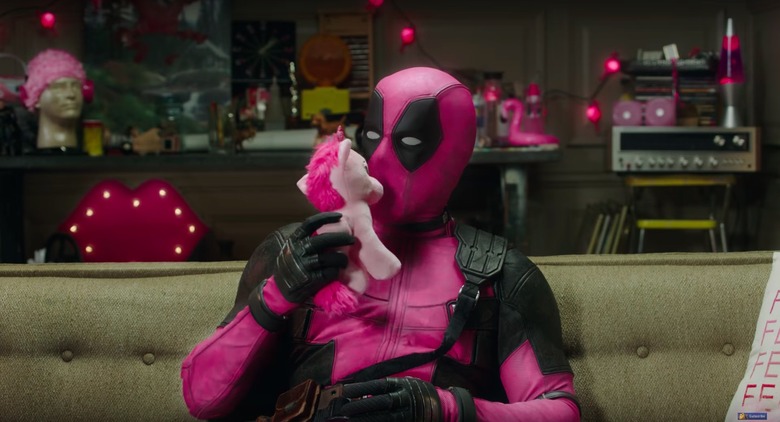 Wade Wilson is not a fan of cancer. So it's no surprise that Deadpool has partnered with Omaze in a fundraising campaign to fight the disease.
The Merc with a Mouth released a Deadpool Omaze campaign video to raise funds for an initiative appropriately titled "F*** Cancer."
Donning a super-pink suit in place of his usual blood-red, Ryan Reynolds sat down as Deadpool to tell fans about the F*** Cancer campaign (whose site appears to be down at the time of publication, probably due to increased traffic).
As part of the campaign, Deadpool will be awarding a custom-made pink Deadpool suit to the winner of the contest — and a chance to stick it in cancer's face.
Deadpool Omaze Campaign
"Omaze and I are joining together to scare up some serious cash for 'F*** Cancer,'" Deadpool announces in the campaign video. "I'm going to donate the very suit off my back while giving you a chance to own some movie marketing memorabilia. What you do from there is limited only by your imagination. Will you add it to your weekly wardrobe rotation? Does it become a colorful addition to your S&M collection? Or will you simply nail it to a post to scare away birds, children, and the elderly?"
It's a perfect fundraising campaign to be paired with this superhero movie. The first Deadpool revolved around Wade Wilson's battle with cancer, until he resorts to an experimental treatment that mutilates his face and turns him virtually immortal. But it does give him a wicked sense of humor and an ability to see beyond the fourth wall.
Here's the description (again written in the tongue-in-cheek style of Deadpool) of the campaign, via Omaze:
Hey, you. Yeah, you. We're breaking the fourth wall (do websites have a fourth wall?) to tell you all about the awesome thing you just won: an official, custom-made Deadpool suit of your very own. Since Deadpool isn't like any superhero, this suit isn't just like any movie prop... it's pink and helps an awesome cause kick cancer's butt just like Deadpool does. Whether you want to rock it at the grocery store (please do that!), wear it to your wedding (please don't do that!) or give it to a friend, this exclusive piece of film history is all yours.
Other rewards for those who donate $1,000 or more are a signed poster, a signed DVD, and an outgoing voicemail recorded by Deadpool.
Deadpool 2 hits theaters on May 18, 2018.