Eric Bana Is 'Dirty John' In Bravo Show Based On The Hit Podcast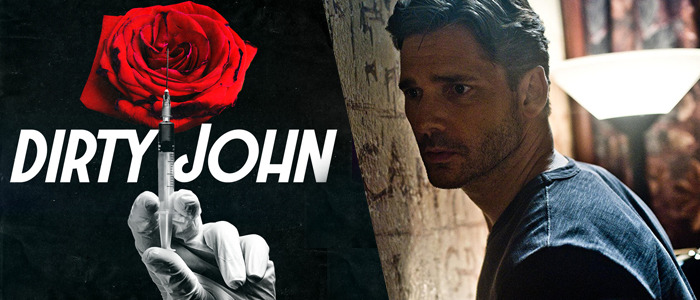 Where has Eric Bana been lately? He had a small role in last year's King Arthur: Legend of the Sword and starred in a Netflix movie opposite Ricky Gervais, but things have been sort of quiet for him since the days when he was headlining big budget action films.
But there's good news for all the Banatics out there (that's what diehard Eric Bana fans call themselves, right?): the Aussie actor has been cast in the title role in Dirty John, a TV adaptation of the popular podcast. Learn more about the Eric Bana Dirty John casting below.
The Hollywood Reporter says Bana will make his U.S. television debut as the male lead in the new Bravo anthology series. Based on the hit podcast and an accompanying series of Los Angeles Times articles by writer Christopher Goffard, Dirty John will tell the story of Debra Newell (Connie Britton), a wealthy Southern California woman who meets "Dirty" John Meehan on a dating site and begins a relationship with him. The official logline says the show will detail how their romance "spiraled into secrets, deception, denial and, ultimately, survival — with shocking ramifications for not just her, but her children."
The eight-episode podcast gets pretty intense, and without giving too much away, it's sort of the perfect piece of storytelling for the Trump age: a confluence of lies, psychopathy, stubbornness, and pop culture interests. Roaming around the periphery of it all is Meehan, a man who is not quite what he appears.
Bana, a hunk in the classic Hollywood mold, seems like inspired casting. He's charming enough to pull Debra into his web and just scary enough to keep her there. He's more than capable of the sharp, quick personality turnarounds needed to portray this complicated character, and I can't wait to see how he and Britton play off each other.
Dirty John is an anthology show, and it's already received a two-season order. Season one will retell the events of the podcast, while season 2 "will feature an entirely new and closed-ended story that has yet to be determined." That's going to be very odd, unless it also stars Bana reenacting a different period in Meehan's life. Apparently there are plenty of moments to choose from – Bravo's sister network Oxygen is even producing an unscripted show about his many real-life exploits and the people he manipulated over the years.