'Stranger Things' Coming To Universal's Halloween Horror Nights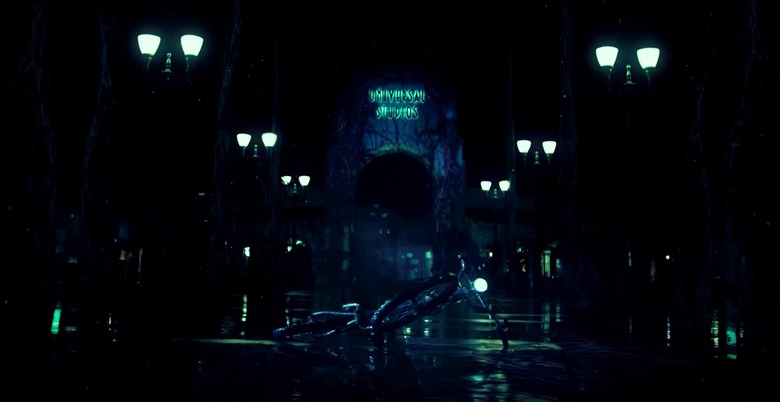 Get ready to step into the Upside Down.
Stranger Things is coming to Universal Studios for a special creepy attraction during Universal's Halloween Horror Nights. The Stranger Things Universal collaboration will produce a huge season 1-inspired maze for fans of the Netflix show to enter at their own risk.
Halloween Horror Nights are about to get a whole lot stranger. Universal's annual Halloween festival will welcome the world of Hawkins, Indiana to three of its locations: Universal Studios Hollywood, Universal Orlando Resort, and Universal Studios Singapore.
Huge, elaborate mazes will be installed at each of the Universal locations, aping the look and feel of Stranger Things and its eerie, fog-filled Upside Down. The mazes "bring the chittering, predatory Demogorgon to Halloween Horror Nights to stalk unwitting guests as they encounter iconic scenes, characters, and environments from the mesmerizing series," the Universal press release states. Here's more:
From the menacing Hawkins National Laboratory, under the U.S. Department of Energy, to the Byers home adorned with an erratic display of flashing Christmas lights and the eerie Upside Down woods oozing a shower of floating orb-like spores, the chilling new mazes will offer surprising twists and unexpected turns around every corner.
Sounds like it'll be even better (and more official) than those Stranger Things pop-up bars.
Accompanying Universal's announcement, the resort released a creepy teaser showing one of the Stranger Things kids' signature bikes fallen in front of the Universal Studios entrance.
Universal partnered with Stranger Things creators Matt Duffer and Ross Duffer, and executive producer Shawn Levy to bring these spooky mazes to life.
This isn't the first time that Universal has recreated beloved pop culture horror properties – they do it every year with numerous films and TV shows. The Shining got the maze treatment last year, while FX's American Horror Story has been a recurring feature at the annual screamfest.
It's about time that this happened for Stranger Things, which first hit the zeitgeist in 2016. Unofficial pop-up bars aren't the same as a veritable theme park experience. Now, if only we could get a Stranger Things roller coaster ride installed. It wouldn't have to be too complicated — all it needs is to take you upside down.
Halloween Horror Nights begins Friday, September 14, 2018 in Hollywood and Orlando and on Friday, September 28, 2018 in Singapore. Additional details about the events will be revealed soon.