'Gormenghast' Fantasy Novels To Be Adapted For TV By Neil Gaiman And Akiva Goldsman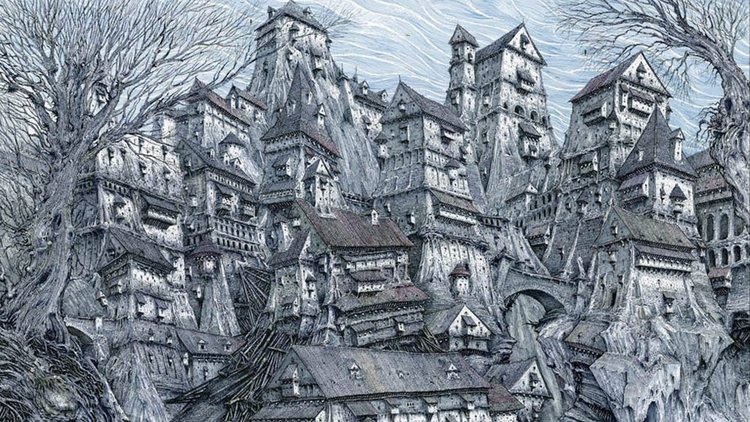 Neil Gaiman is stepping up his TV game. The author has been gradually making his way over to the small screen, first executive producing the Starz adaptation of his magnum opus novel, American Gods, then taking on the role of showrunner for the BBC adaptation of Good Omens. Now, he will be teaming up with Akiva Goldsman to develop a TV adaptation of fantasy novels that he had no part in writing.
Gaiman and Goldman will be adapting the Gormenghast TV series, based off of Mervyn Peake's acclaimed fantasy series.
The Tracking Board reports that Gaiman and Goldman will be collaborating with FremantleMedia North America to develop a Ghormenghast TV series.
Mervyn Peake's fantasy series, which follows the inhabitants of the decaying gothic Castle Gormenghast, has been called a literary classic on par with J.R.R. Tolkien's Lord of the Rings series, its more-famous contemporary. Originally conceived as a single novel, Peake would write three novels Titus Groan (1946), Gormenghast (1950), Titus Alone (1959) and a novella, Boy in Darkness (1956), before his death in 1968.
The series is rife with political intrigue, following a slew of "characters including Titus, the heir to the throne of the House of Groan, scheming kitchen boy Steerpike and twin sisters Cora and Clarice," according to The Tracking Board.
Gaiman said in a statement accompanying the announcement:
"There is nothing in literature like Mervyn Peake's remarkable Gormenghast novels. They were crafted by a master, who was also an artist, and they take us to an ancient castle as big as a city, with heroes and villains and people larger than life that are impossible to forget. There is a reason why there were two trilogies that lovers of the fantasy genre embraced in the Sixties: Lord of the Rings, and theGormenghast books. It's an honor to have been given the opportunity to help shepherd Peake's brilliant and singular vision to the screen."
Gormenghast has been adapted for the small screen before. The first two books of Peake's series, Titus Groan and Gormenghast, were adapted in 2000 by the BBC as a four-part miniseries starring Jonathan Rhys Meyers and Christopher Lee. The trailer is quite...something.
The series sounds highly ambitious and weird — a perfect combination for the king of ambitious and weird, Neil Gaiman. We have yet to see Gaiman's talents behind the camera in Good Omens, but it sounds like Gormenghast will test his storytelling and TV producing skills.
However, it's unclear what part Gaiman will play with the series in the long run, as FremantleMedia is currently meeting with potential showrunners. Barry Spikings (The Deer Hunter) will also executive produce, along with David Stern (Howards End). Akiva Goldman is the wild card here, as he does have his Oscar win for A Beautiful Mind under his belt, but has produced a string of flops, including A Winter's Tale and The Dark Tower. But I could see Gaiman as the creative muscle in this team, while Goldman works his Hollywood connections. I'm not sure yet if it's a match made in heaven, but consider me intrigued by this weird, high-concept premise.