What's The Secret To Making A Great Live TV Musical?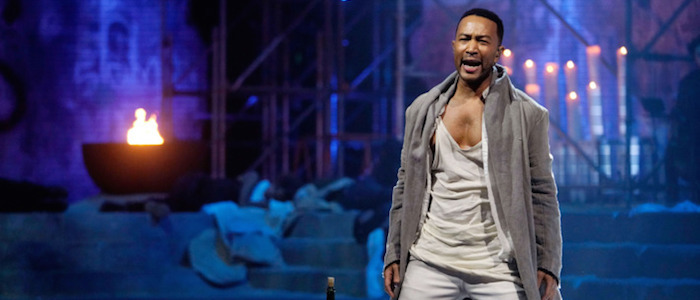 NBC executives likely breathed a sigh of relief when the ratings for Jesus Christ Superstar posted. The network's latest live musical event attracted 9.6 million viewers, giving NBC its most-watched Easter Sunday in 12 years. Jesus Christ Superstar also got some nice notices in the press, earning praise for its cast and stark staging on a graffitied warehouse set. It's just the good news that NBC, and live musicals as a whole, need. Because the last few efforts have been a decidedly mixed bag.Ever since NBC revived the live TV musical format, it's been working to get the genre down to a science, and it's not alone. Competing networks have also gotten in on the act. Fox has been airing its own musicals since 2016, and will debut a live version of Rent in 2019. But dwindling ratings have scared some off the scent. NBC's next venture, Bye Bye Birdie, has been postponed repeatedly, while ABC has shelved its Little Mermaid indefinitely. If live musicals are to continue, the networks will need to pump out more critical and commercial hits — and luckily, the previous specials offer some clues.
Putting on a Show
The current live musical trend kicked off in 2013, when NBC aired a production of The Sound of Music starring Carrie Underwood and True Blood's Stephen Moyer. The reviews weren't kind, but the ratings were phenomenal. The special attracted over 18 million viewers, making it the best Thursday night for the network since Frasier went off the air. NBC soon made it a yearly tradition: Peter Pan Live! aired in 2014, followed by The Wiz Live! in 2015, and Hairspray Live! in 2016. The network postponed its planned 2017 musical, Bye Bye Birdie, but a competitor picked up the slack. Fox broadcast three "live" musicals in 2016, although only one, Grease: Live, truly fit that description. The Passion featured some previously filmed segments, while The Rocky Horror Picture Show was entirely pretaped. Fox released one more live musical, A Christmas Story Live!, in 2017.But this niche genre existed long before Carrie Underwood twirled around some fake mountains. NBC famously aired two live versions of Peter Pan with stage star Mary Martin in 1955 and 1956. The first one earned 65 million viewers, which is actually peanuts compared to what CBS netted in 1957. The network commissioned Richard Rodgers and Oscar Hammerstein to write a new Cinderella musical, with a young Julie Andrews in the title role. An eye-popping 107 million people tuned in to watch the live show.So what's the secret to live TV musical success? It all begins with the book.
Song Selection
The most successful live musicals come from beloved, enduring stories. The ratings bear this out. Of the modern iterations, The Sound of Music is still tops, followed by Grease with 12.206 million viewers and The Wiz with 11.498 million viewers. But if you look at the musicals with the worst ratings, you'll see some less familiar faces.A Christmas Story drew the smallest audience to date, with just 4.481 million viewers — and it's hard to imagine any other outcome. Although the non-musical A Christmas Story plays endlessly on TV every holiday season, no one grew up with the musical adaptation, which debuted on Broadway in 2012. And the show hasn't gained a significant following in recent years. Is anyone out there blasting original cast recording of "It All Comes Down to Christmas" or "Ralphie to the Rescue" once a week? Of course not, and without a built-in fan base, these musicals are even more of a gamble. It's no wonder that The Passion received similarly poor ratings. Fox's musical retelling of Jesus Christ's last days was sourced from a Dutch television special, and netted a disappointing 6.648 million viewers.
Casting Call
Live television musicals lean heavily on stunt casting to generate early buzz. It doesn't necessarily matter to networks whether fans are surprised, excited, or skeptical about these choices; they just want them to be curious enough to tune in. That's why the top spots in these musicals are usually reserved for actors who aren't really known for singing, or musicians with little to no acting experience. As John Legend just proved in Jesus Christ Superstar, this isn't necessarily a bad thing. The singer was a great Jesus Christ, delivering powerful solos and convincingly commanding a punk rock cult of disciples, all while wearing a slouchy sweater. It would be blasphemous to suggest he was in the same league as Brandon Victor Dixon, whose virtuoso performance of "Superstar" was unquestionably the best number of the special. (Fight me.) But this was a smart stunt casting choice that earned a positive reception. Yet for every John Legend, there's a Carrie Underwood or worse, a Christopher Walken.Most critics agreed that Underwood was a bland Maria. She could sing, but she didn't look too comfortable in conversation. This inexperience was also evident in Ariana Grande, whose Penny Pingleton in Hairspray Live! was far more awkward than the role required. Still, by far the weakest and most notorious performance to come out of these specials belongs to Christopher Walken in Peter Pan Live!. It's unclear if he simply wanted a check, or someone was outright blackmailing him, but boy did he not want to be there. His singing was basically just talking, his dancing (which is normally fantastic!) was a collection of half-hearted shuffles, and he couldn't even bother to remember his lines. It was an unmitigated trainwreck, one that shows how drastically a bad performance can alter the entire production.But Peter Pan had already messed up by casting two non-singers in lead roles. Allison Williams, despite her viral take on the Mad Men theme song and a cringey Kanye cover on Girls, wasn't really known for her singing when she clinched the lead role in Peter Pan. Although she didn't embarrass herself the way Walken did, she was still an inexperienced performer, as many critics were quick to note. And when both your Captain Hook and Peter Pan are weak points in the cast, it's tough to salvage the show.Stunt casting is a pretty unavoidable part of the process for live TV musicals, because networks are skittish about signing Broadway actors to lead roles. It's a problem that plagues movie musicals, too: do you cast the less famous person who can actually sing, or the celebrity with questionable pipes? Obviously, the first option makes for a better show, but will people watch it?Most live musicals have split the difference by casting big names in the lead roles and rounding out the supporting cast with theater veterans — people like Dixon, Christian Borle, and Kelli O'Hara. That seems to be the formula for the time being, although Aaron Tveit's lead role in Grease: Live shows some willingness to bend the rules. The best live musicals have at least been thoughtful in their splashy star choices. The Wiz, for instance, cast a bunch of well-known singers who also know how to connect with their co-stars (Mary J. Blige, Ne-Yo, etc.), plus a dramatic actress with a secretly killer voice (Uzo Aduba). So while it's fine to pick someone famous who comes with an eager fanbase, there needs to be some intention with that choice, an intention which many of the early misfires lacked.
Static Sets
The finale of Jesus Christ Superstar features an indelible image. The crucified Christ rises up on his cross into a bright, blinding light as the walls of the stage open up and seemingly swallow him whole. It provoked a rapturous reaction on Twitter, and rightfully so. This choice illustrates imaginative, creative staging that so many of these live musicals sorely lack.Ironically, Jesus Christ Superstar succeeded by somewhat ignoring the possibilities of its medium. It was staged on a single stage in the Marcy Avenue Armory, before a live audience in Brooklyn. The characters weren't running off to new sets for each number, like they have in so many previous live specials. It was presented as a "concert" performance — apart from some aerial shots and close-ups, TV viewers were seeing the same thing as the audience at Marcy Avenue Armory. Some critics are already praising this staging as the future of the format. "Although it can be tempting to try to turn them into live TV movies that disguise their origins as theater, it's probably smarter to just do this," Linda Holmes wrote for NPR. "Just put on the show. Have faith in it. Hire great performers, and let them work."Most of the Fox and NBC musicals have gone very much against that advice, constructing elaborate sets for each of their productions. It's resulted in some massive stages that end up feeling strangely artificial, even hokey at times. One of the few productions to engage with the TV format in a smart, even thrilling way, was Grease: Live. After a brief prologue, the camera pulls back to reveal Aaron Tveit and Julianne Hough standing on a tiny platform in front of a green screen, with mics dangling over their heads. It then follows Jessie J as she wanders through the sets, singing the title song. It's a fun way to play with the artifice and open up the show's world, but Grease: Live also knows how to use the powers of television to hide some transitions. When Keke Palmer sings "Freddy, My Love," a series of tight close-ups transform her friend's girly bedroom instantly into a USO stage. There, she belts a fantasy number in a glittering red dress you never see her change into — and when the girls return to their sleepover, she's instantly back in her pajamas. This staging, with the camera's help, hides more of the seams, making the number just a little more magical than it might've appeared on a Broadway stage.
Curtains, Please
Stage musicals routinely run around two hours. But add in all those TV commercial breaks and you're easily looking at two and a half, three hours of show. The best of these live musical specials run at a somewhat quick clip — The Wiz was just under two hours, Grease was a little over two, and Jesus Christ Superstar was an even two and a half. Paying attention to the time keeps the momentum going and prevents viewers from getting antsy. But the worst live musicals also tend to be the longest. Sound of Music and A Christmas Story both pushed three hours, which is a big ask for viewers, even the ones who already love musical theater. Cinderella, which garnered a Super Bowl-sized audience in 1957, ran for just an hour and a half. Future live productions might want to keep this in mind.Essentially, all this advice boils down to giving the people what they want. Pick a musical they like, cast some talented people that excite them, keep it moving, and think hard about what staging best suits your production. Oh, and don't call Christopher Walken.