The Russo Brothers And Thanos Ask Fans To Not Spoil 'Avengers: Infinity War'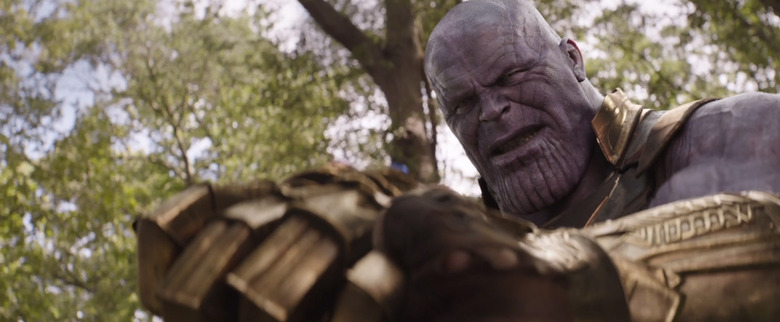 There is less than a month until the release of Avengers: Infinity War. Which only means one thing: we're about to enter spoiler season.
The Avengers: Infinity War team is embarking on a worldwide press tour, where they will not only talk to journalists about the movie, but show select footage of the superhero ensemble to fans. But with early screenings, you run the risk of Infinity War spoilers leaking. Which is why the Russo Brothers are preemptively asking fans to keep the spoilers secret — with the help of Thanos.
Joe and Anthony Russo took to Twitter to implore the lucky fans who will see early screenings of Avengers: Infinity War footage to not spoil the movie.
"#ThanosDemandsYourSilence," the Russo brothers wrote, posting a picture of their letter along with Thanos' Infinity Gauntlet. I'm not saying they'll sic Thanos on you, but they sound pretty serious.
#ThanosDemandsYourSilence pic.twitter.com/dvyc26ju04

— Russo Brothers (@Russo_Brothers) April 3, 2018
Of course, this isn't the first time that fans have gotten to see early footage of Avengers: Infinity War. The Russo brothers screened some footage at San Diego Comic-Con in 2017. But now, fans all over the world can get a longer glimpse at the penultimate Marvel movie. As long as you keep your mouth shut.
The dozens of Infinity War cast members were all able to do it — to the annoyance of set visit reporters. That impressive ensemble includes Scarlett Johansson, Josh Brolin, Robert Downey Jr., Mark Ruffalo, Tom Hiddleston, Chris Evans, Chris Hemsworth, Jeremy Renner, Chris Pratt, Elizabeth Olsen, Sebastian Stan, Benedict Cumberbatch, Paul Bettany, Samuel L. Jackson, Chadwick Boseman, Cobie Smulders, Benedict Wong, Zoe Saldana, Karen Gillan, Dave Bautista, Pom Klementieff, Don Cheadle, Tom Holland, Bradley Cooper, and Anthony Mackie.
Read the Russo brothers' full letter below:
To the greatest fans in the world,
We're about to embark on the Avengers: Infinity War press tour. We will be visiting fans all over the world screening only a limited amount of selected footage from the film in order to avoid spoiling the story for future viewers.
We will not screen the film in its entirely until its Los Angeles premiere shortly before the film's global release. Everyone involved with the film has worked incredibly hard for the past two years maintaining the highest level of secrecy. Only a handful of people know the film's true plot.
We're asking that when you see Infinity War, in the coming months, that you maintain that same level of secrecy so that all fans can have an equal experience when they watch it for the first time. Don't spoil it for others, the same way you wouldn't want it spoiled for you.
Good luck and happy viewing.
The Russo Brothers.
#ThanosDemandsYourSilence
Avengers: Infinity War hits theaters on April 27, 2018.