Rian Johnson Is Proudest Of The Most Controversial Parts Of 'Star Wars: The Last Jedi'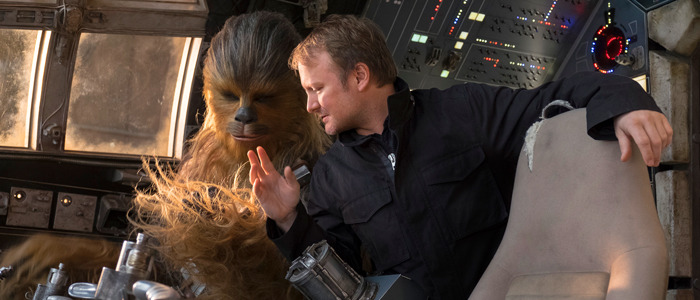 Four months after the release of Star Wars: The Last Jedi, the outrage against it still hasn't died down in some circles. But director Rian Johnson won't let that bother him.
In a new interview, Johnson addressed the polarizing elements in Last Jedi that rejected the mythology of the Star Wars franchise and angered some fans. Those choices earned him more than a few death threats, but they also earned him plenty of positive feedback that helped soothe the sting of the outpouring of hate. And it's thanks to those positive fans that Johnson is able to say that he's proud of the work he did.
Star Wars: The Last Jedi was a massive critical and commercial success, scoring a 91% fresh rating on Rotten Tomatoes and raking in $1.3 billion worldwide. But you only have to look at the user rating on Rotten Tomatoes (47%) to get the sense that not everyone was happy with The Last Jedi.
We've written extensively about The Last Jedi, the boundaries that it pushed, the toxicity in fandom it revealed, and Rian Johnson's reaction through it all. Now, in a new interview with The Standard, he revealed that he's received more than just online hate for The Last Jedi. So-called "fans" have even sent him death threats.
"I knew intellectually what I was letting myself in for, but then when it happens you're like, oh my God, this is intense," Johnson said. "It's about knowing you're not going to please everyone. But then you still read someone saying they wish you were dead and it's going to ruin your day."
But he wouldn't change a thing. Because the elements that some fans hated so much were actually the parts that he was proudest of:
"There were death threats. It's balanced by a few things — 90 percent of the stuff I got online was not only lovely and encouraging but phenomenally thoughtful. Fans would send me essays on the movie. The other 10 percent is just loud and gets amplified. At first I was freaked out but then I realized the things people were angry about are the things I'm most proud about."
It's no secret that I think that The Last Jedi was a bold and inventive approach to a franchise that threatened to buckle under its own mythology. The approaches that Johnson took with Rey's parentage, Luke's storyline, Snoke's fate, and the democratization of the Force, were what I loved best about the film. I'm part of that 90% who sent in positive feedback to Johnson, and I'm glad to be. There's enough hate on the internet as it is, and Johnson (who, yes, is probably sleeping on a bed of money) has suffered enough.