Is Woody Harrelson Carnage In 'Venom'? A New Rumor Suggests So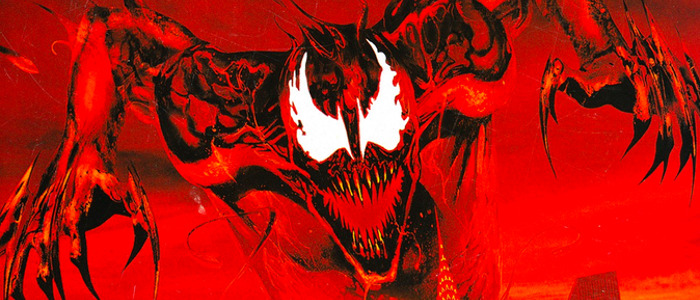 Is Carnage in Venom, the film featuring Tom Hardy as everyone's favorite lethal protector? There have been rumblings that the character would pop up in the Ruben Fleischer-directed film, and now a new rumor suggests that Woody Harrelson will be playing the character. More on the Woody Harrelson Carnage rumor below.
Take this rumor with a nice heaping dose of salt, but Bleeding Cool claims to have learned that Woody Harrelson is playing Carnage in Venom. A source has told the site in "a very confirm-y way that not only is Carnage to appear in the upcoming Venom movie but, yes, he will be played by Woody Harrelson." There was a long-running rumor that Venom cast member Riz Ahmed might be playing Carnage, but reports indicate Ahmed is actually playing a character named Dr. Carlton Drake.
Harrleson's involvement in Venom was announced in December 2017. At the time, word had it that Harrelson was playing "a henchman of sorts" – which seems to contrast with this new report that he's playing Carnage. In the comics, Carnage is a serial killer named Cletus Kasady, who is infected with the same sort of alien symbiote as Venom. The Carnage storyline received the video game treatment in the 1994 game Maximum Carnage, which has a pretty killer theme song.
Venom focuses on Eddie Brock (Tom Hardy), the host of an alien symbiote that gives him incredible powers. In the comics, Eddie Brock/Venom was an antagonist to Spider-Man, but Spidey will likely not be appearing in this standalone film. Venom was previously brought to the big screen by Sam Raimi in Spider-Man 3.
Specific details regarding Venom are still under wraps. What we do know know is that the Venom film is inspired by two specific comic storylines: Lethal Protector and Planet of the Symbiotes. In Lethal Protector, Venom turns from regular Spider-Man protagonist into an anti-hero. Venom also teams with Spider-Man to defeat five new offspring of the Venom symbiote. In Planet of the Symbiotes, an army of symbiotes invade earth. Carnage appears in that story, which might carry over into the Venom film. I suppose the question one should ask now is, if Carnage is in Venom, how big a part will he play? Will he be the main antagonist, or is Venom setting Carnage up for a bigger appearance in a future film?
Venom, starring Tom Hardy, Michelle Williams, Riz Ahmed, Scott Haze, Reid Scott, Jenny Slate and Woody Harrelson hits theaters on October 5, 2018.