New 'Solo' Characters Include An Alien Named Therm Scissorpunch (No Joke)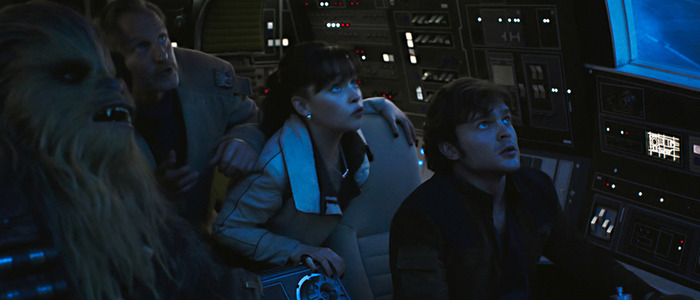 Folks, please welcome Therm Scissorpunch into the Star Wars universe.
Denny's unveiled their calorie-heavy Solo: A Star Wars Story-inspired menu today, and nestled amongst all those bacon and eggs came the reveal of several new Solo characters – including a lobster-like individual named Therm Scissorpunch. Start writing your Therm Scissorpunch fan-fiction now!
Solo: A Star Wars Story is almost ready to blast into theaters. In anticipation of the release of the latest Star Wars Anthology film, Denny's held a big presentation unveiling their new Solo-themed menu. Here's a quick look.
Here's the full SOLO Denny's menu. I know what I have to do... pic.twitter.com/yLa9FQtlKG

— Matt Singer (@mattsinger) April 2, 2018
The menu isn't the only big reveal of the day, however. In addition to the indigestion-inducing "Lightspeed Slam", several new Solo characters made their debut courtesy of some Denny's promotional material. Have a look
In addition to characters we already know about, like Thandie Newton's Val and Alden Ehrenreich's Han, these trading cards show off a character named Moloch, and my new personal favorite Star Wars character, Therm Scissorpunch. Look, no one has ever accused Star Wars of having subtle character names, but the name Therm Scissorpunch being given to a character with lobster-claw seems a bit on the nose. That said, I sincerely hope Disney and Lucasfilm are working on a Therm Scissorpunch standalone movie as we speak.
Another set of trading cards introduces us to a Mudtrooper, and Argus "Six Eyes" Panox – a character who has, you guessed it, six eyes.
Here's an even clearer look at the Mudtrooper. I could be wrong, but I'm guessing this character will trek through mud at some point. It'll be space mud, though, since this is a Star Wars film.
Solo Denny's Commercial 
Last but not least, here's a new Denny's commercial which recreates the scene where Han wins the Falcon from Lando. Chewie is there, too, just waiting to eat some Blaster Fire Burgers. As the ad points out, "fans will be able to collect trading cards featuring characters from the movie as well as try a new movie-inspired menu. Proceeds from every trading card pack purchase benefit the charity No Kid Hungry."
Solo: A Star Wars Story, starring Alden Ehrenreich, Woody Harrelson, Emilia Clarke, Donald Glover, Thandie Newton, Phoebe Waller-Bridge, Joonas Suotamo and Paul Bettany, opens May 25, 2018.
Through a series of daring escapades deep within a dark and dangerous criminalunderworld, Han Solo meets his mighty future copilot Chewbacca and encounters the notoriousgambler Lando Calrissian, in a journey that will set the course of one of the Star Wars saga's most unlikely heroes.