'Beetlejuice' Originally Had A Much Darker Ending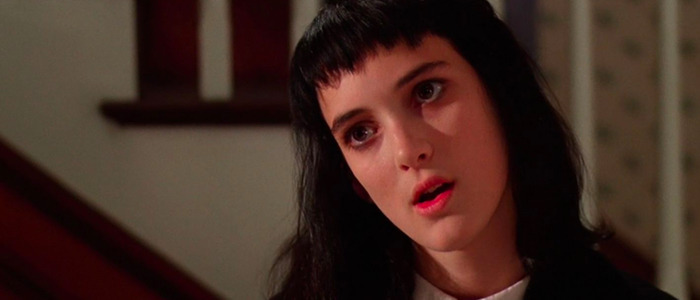 Beetlejuice is on everyone's mind lately due to the film's 30th anniversary. While you're reflecting back on Tim Burton's 1988 dark comedy, here's something you may not know: the film almost had a much darker ending. Read about the Beetlejuice alternate ending below.
Happy 30th birthday, Beetlejuice – you don't look a day over 29! In 1988, Tim Burton's weird comedy became a hit, and its legacy lives on to this day. There were even plans for a sequel set in Hawaii (for some reason). But the Beetlejuice legacy could've been much different had the film featured its original, alternate ending. Speaking with Yahoo, Beetlejuice producer Larry Wilson revealed the film originally ended with Winona Ryder's goth-as-hell character Lydia dying in a fire. As Wilson tells it, the idea was that the death would enable Lydia to join Alec Baldwin and Geena Davis' ghost characters in the afterlife:
"Our first ending was Lydia — she died in a fire and was able to join Barbara and Adam in the afterlife. A couple of people said to us, 'Do you really think that's a good idea? Is that really the message you want to be sending to the teenagers of the world? Die in a fire?' So, yeah, it probably was darker."
Needless to say, everyone made a wise choice by not using this ending. Rather than Winona Ryder burning to death, we're instead treated to the character floating into the air while lip-syncing Harry Belafonte's "Jump In The Line".
In the film, married couple the Maitlands die in a car accident, only to return to their home as ghosts. A new family – the Deetzes – move in, much to the Maitlands' annoyance. To get rid of the living people infesting their home, the Maitlands call upon Beetlejuice (Michael Keaton), a raunchy "bio-exorcist". The only living person who sympathizes with the Maitlands is the Deetzes' daughter, Lyida. Burton's film has plenty of dark moments, but there's also a light, goofy tone prevailing through the film. Having Lydia burn to death would probably ruin all that, though.
This alternate ending might be in keeping with Michael McDowell's early Beetlejuice script, which was much darker. In McDowell's 2nd draft (which you can read here), the character of Beetlejuice doesn't just want to scare the Deetz family out of their new home – he wants to kill them. This script also gave the Deetz family a second, younger child who doesn't appear in the finished film.
Thankfully, the story of Beetlejuice evolved into the film we all know it as now, which still holds up to this day, which is more than I can say about some of Tim Burton's other films.