'Venom' Movie Recruits 'Black Panther's Ludwig Goransson As Composer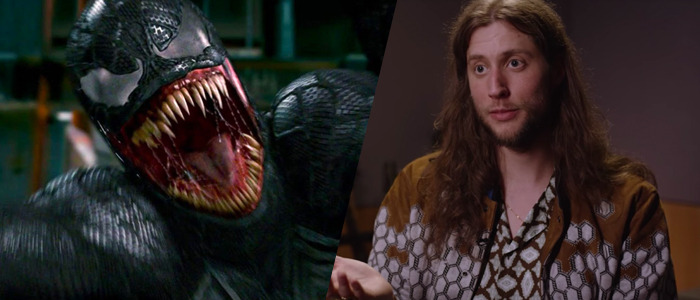 After scoring Marvel Studios' Black Panther, composer Ludwig Goransson is staying in superhero movie territory for his next big project. The musician will provide the score for Sony's upcoming Venom movie, which has cast Tom Hardy (Inception, The Dark Knight Rises) in the lead role. Learn about Goransson's relationship to Childish Gambino, how this film will be a reunion for him and its director, and more about the new Venom composer below.
Deadline reports that Goransson will compose the score for Venom, the first in a new series of Marvel movies produced by Sony that won't be set in the Marvel Cinematic Universe. Instead, they'll take place in what they're calling "Sony's Marvel Universe," an adjacent world that will include the upcoming Silver and Black film and may or may not feature Tom Holland's Spider-Man making an appearance at some point. (It's all very confusing.)Venom is directed by Ruben Fleischer (Zombieland), and it will reunite the director with Goransson, who scored his 2011 comedy 30 Minutes or Less. The 33-year-old Swedish composer has also scored films like Fruitvale Station, We're The Millers, Creed, and of course Black Panther. He's arguably more famous for his TV work, though, providing the scores for comedies like Community, Happy Endings, and New Girl.
In addition to his film and TV credits, Goransson is an especially gifted record producer, either co-writing or co-producing Donald Glover's Childish Gambino albums going all the way back to 2010's Culdesac. Glover/Gambino even name-drops Goransson in the song "Bonfire":
I put in work, ask Ludwig
Put my soul on the track like shoes did
Venom could prove to be one of Goransson's biggest challenges as a composer, simply because the movie looks so bland – at least from what we've seen thus far. Black Panther had a clear identity, a sense of place and culture that at least gave Goransson a point on the compass at which to aim. You can feel it in this track from the movie, "Warrior Falls":
What is he supposed to do with...whatever the hell is going on in this Venom trailer? Hardy doesn't even wear the Venom suit in the trailer, and it's still unclear exactly what kind of film this is going to be.
To get some more insight into Goransson works, check out this video breakdown of how he created another track from the Black Panther score, even going as far as to incorporate T'Challa's name using drum sounds: