'Bill And Ted 3' Is Closer To Happening Than Ever Before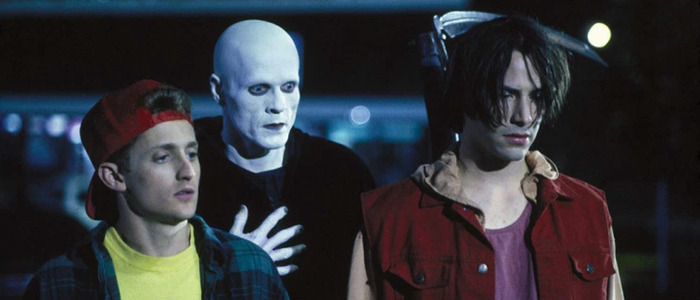 Bill and Ted 3, aka Bill & Ted Face the Music, is closer to reality than ever before. Stars Keanu Reeves and Alex Winter, and series writer Ed Solomon, have offered new details about the long-awaited sequel.
Fans have been waiting a very long time for Bill and Ted 3, currently titled Bill & Ted Face the Music. Bill & Ted's Bogus Journey, the incredibly strange (and in my humble opinion, superior) sequel hit theaters all the way back in 1991. The world has changed considerably since then, but that hasn't kept audiences from clamoring for the return of Wyld Stallyns. EW has a big retrospective on the Bill and Ted franchise, which reunites stars Keanu Reeves and Alex Winter. During the course of the conversation, Bill and Ted 3 comes up several times, revealing some details about the long-awaited sequel.
Steven Soderbergh is Producing
Perhaps the most unexpected piece of info from the EW piece is that Steven Soderbergh is producing the film. This info came up before a few months ago during a big Digital Spy interview with Bill and Ted franchise writer Ed Solomon. "Steven Soderbergh is one of the producers on it," Solomon tells EW. "Along with Scott Kroopf, the original producer [of Excellent Adventure and Bogus Journey]. Bill Sadler is back, returning as death, and a few delicious cameos by people to be named another time."
Just how much involvement Soderbergh has with the film isn't clear. Solomon wrote Soderbergh's recent HBO series Mosaic, so the two have a working relationship. Even if Soderbergh's involvement with Bill and Ted 3 is minimal, I'd really like to live in a world where Steven Soderbergh produces a Bill and Ted movie. Make it happen, universe.
Dean Parisot is Directing
This also isn't new news – it came out in the Digital Spy story as well – but it's worth repeating. Dean Parisot, who helmed Galaxy Quest, is attached to direct Bill and Ted 3. "We went out and found a director," says Alex Winter. "Dean Parisot, who we love, did Galaxy Quest, which is a masterpiece." Parisot has mostly worked in TV since Galaxy Quest – he has a directing credit on Netflix's Santa Clarita Diet, which just returned for its second season. His Galaxy Quest history makes him a good fit for the Bill and Ted franchise, though, so this is indeed a good pick.
The Idea Was Pitched to Reeves and Winter in 2007
Bill and Ted writers Chris Matthews and Ed Solomon pitched the idea for Bill and Ted to Keanu Reeves and Alex Winter in 2007.  "Chris and Ed came to us in 2007 with the idea of doing it," Keanu Reeves says. "They pitched us an idea. It sounded great."
"We wanted to get it right," Solomon says. "We wanted to have it be something that we — all four of us, Chris and I, Alex and Keanu — could stand behind, and know we're doing this for the right reasons."
The script follows Bill and Ted as middle-aged family men who have long given up their dreams of being rock and roll superstars. In the past, Solomon said of the script:
"We have a script that we really are proud of, that we worked very hard on, that we've done many iterations of – and we did it on spec, meaning we spent years working on it because we wanted to get it right, creatively...This is not, 'Hey let's all cash-in on the Bill & Ted thing for money' – this is the opposite. This is, 'We love these characters, they've been with us for our whole lives' – Chris and me, and Alex and Keanu – and we wanted to visit them again as middle-aged men. We thought it would be really fun, and funny, and sweet."
Bill And Ted 3 is Very Close to Becoming a Reality 
Perhaps the most heartening news is that Bill and Ted 3 is the closest it's ever been to happening. "We are hoping to close a deal with some financiers," says Ed Solomon. "Hopefully within the next month or so, we'll have news that will stick."
Winter adds:
"The whole trajectory of getting the next one off the ground has been pretty much exactly like the experience of getting the original. Going to every studio, and they're like, 'What the eff is this?' It's this kind of independent spirit, and the films have an anachronistic quality to them that's a big part of what they are, fundamentally. I'm really happy that this one is the same. It doesn't feel like some stale knockoff that a studio would have immediately gone, 'Oh, this feels right. We have rebranded very successfully.'"