Get The First Taste Of 'Bao,' Pixar's New Short Film Screening In Front Of 'Incredibles 2'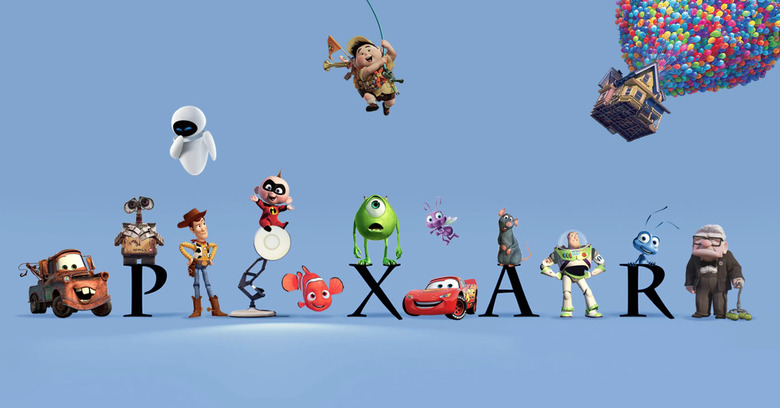 Pixar's newest short film, Bao, looks so good that you could just eat it up. And you can now get a Bao first look, with the first images from the Pixar short that will air in front of Incredibles 2 dropping on the internet.
Leave it to Pixar to nail the complexities of family life in a seven-and-a-half-minute short film. Bao, directed by the first female Pixar short director Domee Shi, tells the adorable story about a Chinese-Canadian mom suffering from depression after her children leave her with an empty nest. But she magically gets a second chance at parenthood when one of her dumplings comes to life.
Entertainment Weekly has the first look at this "culinary fable" that is equal turns heartwarming and bittersweet. But most of all, it looks cute as hell.
Look at the adorable dumpling with its tiny blushes! Its big cheeks and little eyes! It's the cutest thing I've ever seen, and I want 10 Funko Pops of them now, please Pixar.
Aesthetically, Bao looks like it takes cues from the winsome Japanese merchandise characters like Hello Kitty or Gudetama. But story-wise, Bao is rooted in the wistful reality of growing up and becoming distanced from your parents, Shi tells EW:
"It felt like a really universally appealing story that a lot of people could identify with. We got a ton of e-mails from people identifying with the mom character, or the dumpling character, saying, 'Wait, that's me,' or 'That's my parents,' or 'I'm dealing with this right now.'"
The story follows the mom as she becomes more attached to the baby dumpling, who is at first loving and sweet. But even puberty hits anthropomorphic food items. Pixar sprinkles its signature meticulous touches onto the dumpling's coming-of-age, using sesame seeds to signal puberty, and other details. Pixar shorts are often a sandbox for Pixar's animators to experiment, and the team found that designing the food to be one of the most difficult experiences they faced. The team even brought on Shi's mother, Ningsha Zhong as their "dumpling master" to oversee the accurate cutting and folding of animated dough. "Making our food look delicious was a big triumph," producer Becky Neiman-Cobb said.
But why dumplings? While the classic dim sum dish is obviously tied to Chinese culture, Shi said that the choice of the baby dumpling has a deeper, more personal meaning than simply looking cute:
"Often times it felt like my mom would treat me like a precious little dumpling, wanting to make sure I was safe, that I didn't go out late, all that stuff. I just wanted to create this magical, modern-day fairy tale, kind of like a Chinese Gingerbread Man story. The word 'bao' actually means two things in Chinese: Said one way, it means steamed bun. Said another, it means something precious. A treasure."
Bao will appear before showings of Incredibles 2, which lands in theaters on June 15, 2018. It will make its world premiere at the Tribeca Film Festival on April 21, 2018.