Adam Sandler Will Star In The Next Safdie Brothers Movie [Updated]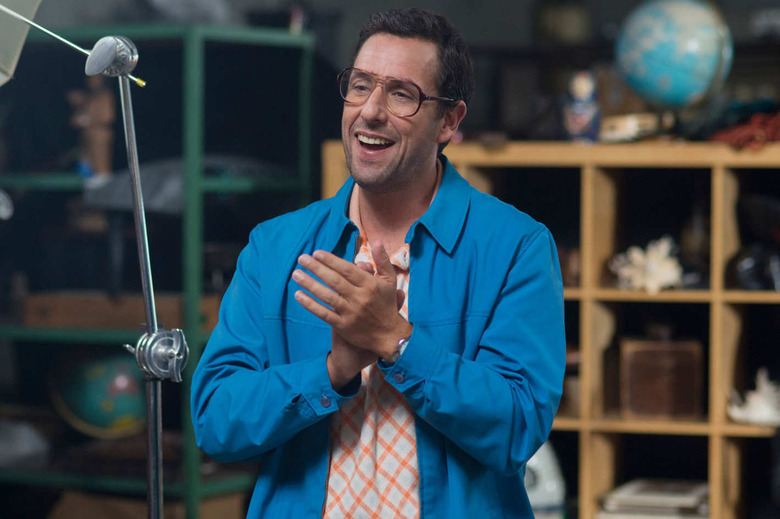 Update: It's official: Adam Sandler will star in Uncut Gems for the Safdie brothers and A24, Deadline reports. Our original story follows below.
For the past decade, Adam Sandler has made a name for himself as a goofball movie star who makes movies solely for the purpose of earning him a trip to Hawaii. But every now and then, we get reminded — hey, this guy is actually a great actor.
After giving a quietly stunning performance in last year's The Meyerowitz Stories (New and Selected), Sandler may be ready for a new creative comeback. Sandler is reportedly being eyed by the Safdie brothers for their follow-up film to Good Time. That's right, an Adam Sandler Safdie brothers movie may soon be on its way.
Ben and Joshua Safdie have slowly become some of the most exciting, visceral independent directors in Hollywood. And no film demonstrated it better than last year's brutal, discomfiting crime thriller Good Time, starring Robert Pattinson as a bank robber attempting to get his disabled brother (Ben Safdie) out of prison. It's an astonishingly pulpy film that marked another turning point in Pattinson's career from heartthrob to character actor, and heralded the Safdie brothers as the next generation of Hollywood auteurs.
Now, the Safdie brothers could work their magic on another Hollywood actor in need of a career turnaround. Hidden in reports of Sandler and Jennifer Aniston's lame-sounding Netflix comedy, was a report (via The Playlist) that the Safdie brothers are reportedly eyeing Sandler to star in Uncut Gems, replacing former star Jonah Hill.
This is a hugely exciting prospect for all parties. Uncut Gems is a Martin Scorsese-produced story written by the siblings' frequent collaborator Ronald Bronstein (Heaven Knows What) about the corrupt diamond district of New York City. It sounds like another grimy crime film for the Safdie brothers, and a huge 180 for Sandler.
Sandler is still in the thick of his historic Netflix deal, churning out one bad broad comedy after another, but one recent role has people thinking that he may be looking for a creative comeback. Yes, I'm talking about Noah Baumbach's The Meyerowitz Stories, in which Sandler played Ben Stiller's bedraggled, resentful brother. It was a revelatory performance that had several critics predicting that Sandler could win an Oscar, though The Meyerowitz Stories ended up being shut out of the awards ceremony altogether.
But Sandler's not a one-trick pony. Though he's more known now for Grown-Ups and his countless forgettable Netflix comedies these days, Sandler has proven that he can be a great actor when he wants to be in films like Punch Drunk Love and Funny People.
Now with a career-best performance in The Meyerowitz Stories behind him, could we see the beginning of the Sandler-ssance? We'll have to wait and see.