Evan Rachel Wood, Gina Rodriguez, And Richard Jenkins To Star In Miranda July's Heist Film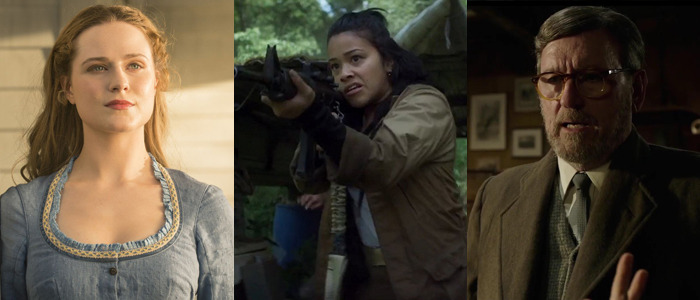 Female-led heist films are officially a trend. With Ocean's 8 and Widows coming up later this year, a third heist movie is now in the works from indie filmmaker Miranda July. The project is still untitled, but she's managed to secure Evan Rachel Wood (Westworld) and Gina Rodriguez (Jane the Virgin) as two of her lead actors, and the idea of those two co-starring in a movie is almost enough to convince me to see it sight unseen. What's that? Acclaimed character actor Richard Jenkins (The Shape of Water, Bone Tomahawk) is in this, too? Well, then count me in.
Read more about the Miranda July heist movie below.
The Hollywood Reporter brings word that Miranda July, the filmmaker responsible for the 2005 indie darling Me and You and Everyone We Know, is getting behind the camera again to make a heist film for Annapurna Pictures and Brad Pitt's Plan B Entertainment.
The untitled film will follow a woman named Old Dolio "whose life is turned upside down when her parents, amateur con artists, invite an outsider to join their biggest heist yet." Wood is playing Old Dolio (what a character name), Rodriguez will play the outsider, and Jenkins and Debra Winger (Terms of Endearment, The Ranch) will play the con artist parents.
What Can We Expect?
I haven't seen Me and You and Everyone We Know, which won a Special Jury Prize at Sundance and picked up another trophy at Cannes, but I have seen July's other film, a 2011 indie called The Future.
I hated it at the time, but looking back on it, the film was wildly imaginative and couldn't have been made by anyone else. A cat narrates it, the moon talks to a character at one point, and a T-shirt gains sentience and crawls along the street by itself. It's very bizarre, and if The Future is anything to go by, it signals that July's new feature won't be a typical heist movie. Some of the writer/director's surrealism seems sure to infiltrate this project, and I'm just hoping it doesn't completely overshadow the story.
The cast is a compelling combination of personalities I wouldn't expect to see thrown together, and I'm always a sucker for a good heist story, so I find myself actively looking forward to this one even though I wasn't crazy about July's latest cinematic effort. Production starts in May, but there's no release date in place yet.