How The 'Roseanne' Reboot Might Change Television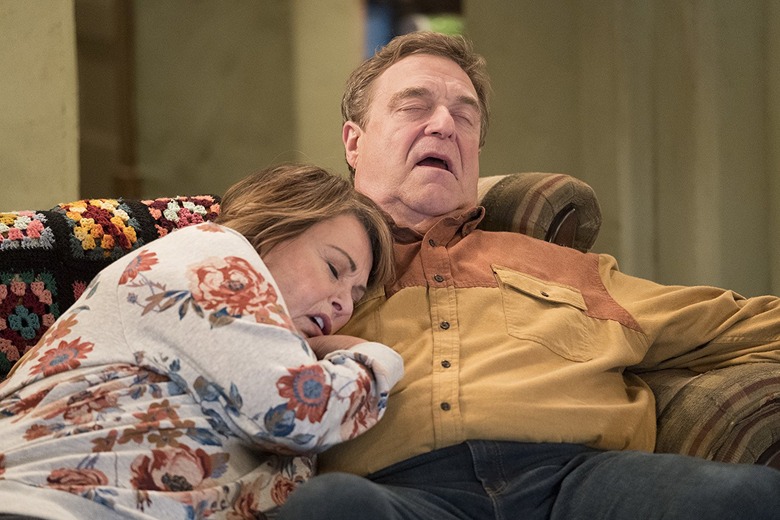 Roseanne is shaking up Hollywood. The Roseanne reboot premiered to massive ratings Tuesday night, drawing more viewers than any network sitcom has in four years. Not only that, the premiere snagged more viewers than its 1997 finale 21 years ago.
So what does that mean for the TV landscape? First of all, you can count on the revival phenomenon to keep going strong. But the more intriguing effect of Roseanne's gargantuan success is that we could see a new era in middle America sitcoms. Or maybe it's a combination of both. You may finally find out which Friends character would have voted for Donald Trump.
The Roseanne reboot premiered to an astonishing 18.2 million viewers along with an equally impressive 5.1 rating among adults 18-49, according to Entertainment Weekly.
The massive numbers shocked the world, including Roseanne's network ABC, which projected half the numbers than the premiere drew. Not only were Roseanne's ratings the highest for any network comedy since The Big Bang Theory's 2014 premiere, it was also 10 percent better than the 16.6 million viewers the original 1997 series finale hauled in. It's bigger than the final 12 episodes from that '97 run.
Roseanne's surprise success could be attributed to those oh-so-powerful nostalgia goggles, but the sitcom about a blue-collar American family living in middle America may actually be tapping into something deeper: Trump country.
Roseanne and Trump Country
Like the former reality show host who rose from left-field stunt Republican candidate to president of the United States America, Roseanne's runaway success shocks everyone and no one at all. Hollywood executives may be left scratching their heads, but Roseanne presents the perfect sweet spot between rose-colored nostalgia for simpler times and current political unrest. The frustrated working class voters who pushed Trump into office are unsurprisingly the prime audience for Roseanne.
According to Deadline, top TV markets where Roseanne delivered its highest ratings were in states carried by Trump in the election. No. 1 was Tulsa in Oklahoma, which Trump won with 65.3% of the vote. It was followed by Cincinnati, Ohio and Kansas City, Missouri. The only city from a blue state in the Top 10 was Chicago, where the series is set. If you want to know how much this show has resonated with Trump voters, look to the man himself, who made a personal call to star Roseanne Barr to congratulate her for the high ratings. Because, you know, he has so much time.
But there's the question of whether Roseanne is truly a show "from and about Trump voters." Roseanne Barr has certainly become a lightning rod for her alt-right political views, with her support for Trump threatening to overshadow the show itself. It's a 180 from when the show first premiered in 1988. During its original run, Roseanne was considered a groundbreaking progressive show about an average middle-class family. Roseanne became a feminist icon of sorts for her  "meanness," her fearlessness to say what she meant.
But many critics question whether the revived show itself reflects Barr's trollish, conspiracy theory-peddling politics. "Roseanne is back wearing a Trump hat, but showing progressive tendencies," Vulture writes. "The Conners of 2018 did vote for Trump ... but the rebooted Roseanne is not a forum for Barr's ideologies," Buzzfeed writes. Like its spiritual predecessor All in the Family, Roseanne may in fact be a harsh examination of the very middle-American audience that watches it so religiously.
What Could Change?
For now, a second season of Roseanne is a "foregone conclusion," co-showrunner Whitney Cummings told TV Line. While its international distribution is up in the air because of an unusual deal with ABC's owner Disney, you can expect Roseanne to have a domino effect on Hollywood and the TV landscape.
Revivals of working-class, blue-collar shows like King of the Hill could very well already be in the works. And TV networks — like the New York Times before them — will likely turn their attention to producing more comedies that appeal to that "under-represented" Trump country demographic.
I'll leave it to someone more well-versed in TV sitcoms than me to debate whether middle America is truly under-served on television. But arguments that Roseanne is the first sitcom to truly show working-class Americans ignores All in the Family before it, and the beloved Netflix sitcom One Day at a Time airing now. As well as the scores of African-American-led sitcoms that have largely been ignored by the revival phenomenon.
For now, expect more Roseanne for the foreseeable future.