Christopher Nolan To Screen '2001' In 70mm At Cannes Ahead Of Summer Re-Release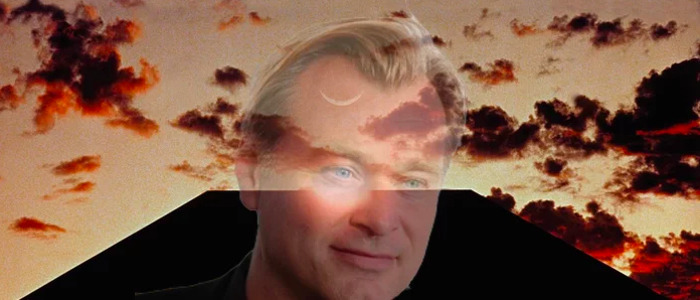 Big ole honking film nerd Christopher Nolan is going to lug a 70mm print of Stanley Kubrick's 2001: A Space Odyssey to Cannes this year. The Cannes screening comes ahead of a 70mm re-release hitting select theaters this May.
More on the 2001 Cannes screening below.
50 years after its initial release, Stanley Kubrick's immortal sci-fi classic 2001: A Space Odyssey is headed to Cannes. Filmmaker Christopher Nolan will screen a 70mm print of Kubrick's film at this year's Cannes Film Festival. This will also be Nolan's first time at the festival, which is somewhat surprising.
Per Deadline, "The screening is also due to be attended by members of Kubrick's family including his daughter Katharina Kubrick and the filmmaker's long time producing partner and brother-in-law Jan Harlan."
Kubrick's film was originally released in a 70mm roadshow format in 1968. Nolan, who is a big fan of the film, issued the following statement on the screening:
"One of my earliest memories of cinema is seeing Stanley Kubrick's 2001: A Space Odyssey, in 70mm, at the Leicester Square Theatre in London with my father. The opportunity to be involved in recreating that experience for a new generation, and of introducing our new unrestored 70mm print of Kubrick's masterpiece in all its analogue glory at the Festival de Cannes is an honour and a privilege."
Cannes Film Festival director Thierry Frémaux added:
"Stanley Kubrick in the Official Selection! It is a great honour for the Festival de Cannes to host the 50th anniversary celebration of one of the most extraordinary films in the history of cinema. And to welcome to the Festival for the first time Christopher Nolan, whose presence creates a precious bond between past and present, without which cinema would have no history. We are looking forward to this unique 70mm projection which will prove, if proof were necessary, that cinema was indeed invented for the BIG screen. "
2001 70mm Trailer
If you can't afford to jet off to the French Riviera (and honestly, who the hell can these days?), don't despair. The 70mm print of 2001 will screen in select U.S. theaters starting May 18, 2018. I can only imagine seeing Kubrick's film in this format will be a transcendent experience. Unlike a standard film gauge, 70mm offers a much higher resolution. When 2001 screened in 70mm at the Egyptian Theater in 2016, the theater offered this description of the experience:
Shot in Super Panavision 70, the film's larger frame size – nearly double that of standard 35mm film – offers remarkable resolution. Figures in windows of spaceships, patterns in the star gate sequence and numerous other details are more plainly visible than ever before. And this is a film built on visuals; Kubrick's affinity for geometrical shot composition finds a perfect thematic match in this tale about the possibilities and perils of technology.