'The Handmaid's Tale' Season 2 Trailer: Freedom Never Looked So Frightening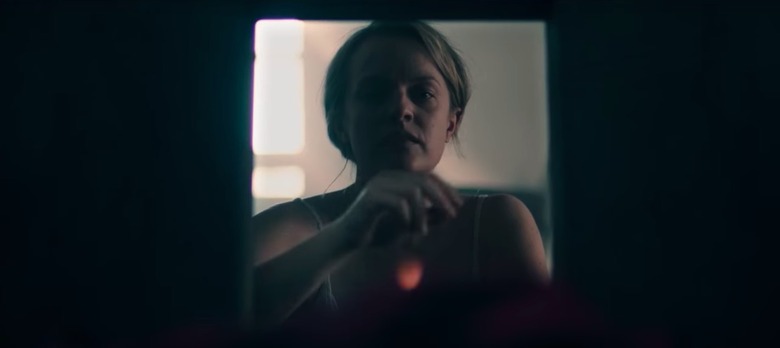 The latest The Handmaid's Tale season 2 trailer is burning with rage, desperation, and unease for the desperate characters in the harrowing Hulu dystopian series. And also literal fire. Lots of fire.
But there's one area where the latest Handmaid's Tale trailer can lift your spirits: Offred/June (Elisabeth Moss) looks like she's going to be fine. The season 1 finale left us uncertain as to what June's fate was going to be, but this season 2 trailer gives us a glimpse at June's escape from the Commander's house and her taste of freedom. 
The Handmaid's Tale Season 2 Trailer
"Is this what freedom looks like?"
Season 2 looks to be just as bleak as ever, but with a ray of hope shining through in the form of one precious word: "freedom." It's something that June looks like she will finally get as she is whisked away from her Commander's (Joseph Fiennes) house by the Eyes. But freedom may not be all that it's cracked up to be, as June morosely observes.
The plot for The Handmaid's Tale season 2 has mostly remained under wraps, but this trailer gives us more plot details than we've ever seen before. Emily (Alexis Bledel) and Janine (Madeline Brewer) are still very much alive, but undergoing brutal punishment at the Colonies. Moira is protesting Gilead's tyrannical rule. And June is just trying to get by, torn between wanting to find her daughter and wanting to protect her new child, who Gilead spy and father-to-be Nick Blaine promises to protect.
But there's an intriguing focus on the Commander and Serena Joy (Yvonne Strahovski), who become frightened for their own well-being when Offred is taken by the Eyes. I get the feeling we'll dive into what makes Serena Joy tick, with the stunning shot of her sitting on Offred's windowsill that parallels the famous scene from season 1, and more flashbacks to her crusade for Gilead.
The Handmaid's Tale season 2 is set to premiere its first two episodes on Hulu on April 25, 2018. The following 11 episodes will air on a weekly basis on Wednesdays.
Based on the best-selling novel by Margaret Atwood, this series is set in Gilead, a totalitarian society in what used to be part of the United States. Gilead is ruled by a fundamentalist regime that treats women as property of the state, and is faced with environmental disasters and a plummeting bir

th rate. In a desperate attempt to repopulate a devastated world, the few remaining fertile women are forced into sexual servitude. One of these women, Offred, is determined to survive the terrifying world she lives in, and find the daughter that was taken from her.