'Beetlejuice' Musical Sets Its Pre-Broadway Premiere, Just In Time For Halloween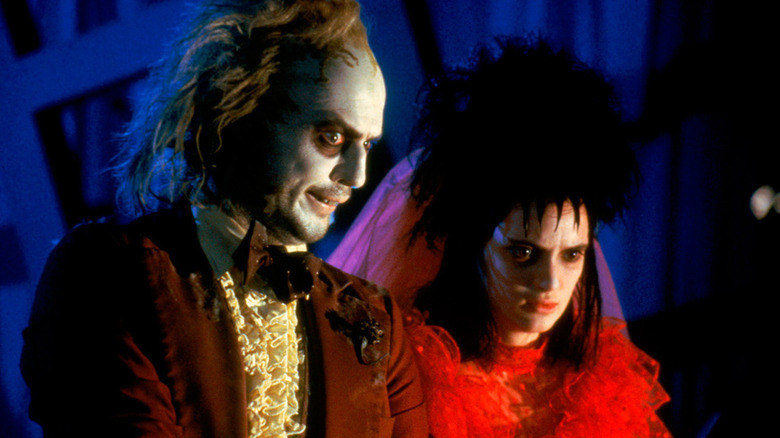 Your millennium has just been made.
The long-awaited Beetlejuice musical has just set its pre-Broadway premiere in Washington, D.C. And it's just in time for Halloween.
It's the 30th anniversary of Beetlejuice this month, so what better time to announce the debut of its long-in-the-making musical?
Yes, it's been 30 years since Michael Keaton's sleazy ghost first barged into our lives, popularizing pinstripe suits and Harry Belafonte songs. And it's been two years since Warner Bros. first announced the development of a Beetlejuice musical, directed by Alex Timbers (Rocky: The Musical, Bloody Bloody Andrew Jackson, Peter and the Starcatcher).
Now, The New York Times is reporting that the Beetlejuice musical will make its pre-Broadway debut at the National Theatre in Washington, D.C., in October. From there, Warner Bros. intends to take the musical to the Great White Way.
The musical adapts Tim Burton's classic 1988 horror-comedy, which starred Michael Keaton as the titular mischievous ghost. Beetlejuice wreaks havoc on the unsuspecting inhabitants of a house when its former ghostly residents (Geena Davis and Alec Baldwin) call upon his help. The new residents' bored goth daughter (Winona Ryder) ends up befriending the ghosts and joins in on the fray.
Timbers told the New York Times that he hopes to translate Burton's unique style to the stage, including its "outrageous, edgy humor."
"One of the things we're focusing on is the emotional story of the character of Lydia, who has an interesting inverted arc — she's a living girl obsessed with death, and Betelgeuse is a dead figure obsessed with life. The film is a family drama, with the two Deetzes and the two Maitlands and Lydia and Betelgeuse all in one house, and we're also seizing on the house as a character, because it's inherently emotional and theatrical and fun."
If any '80s classic is fit for the stage, it's Beetlejuice. It joins a long run of '80s movies that are suddenly getting adapted to the stage (including another Winona Ryder-starring movie, Heathers) but it feels like Beetlejuice was meant to be a musical from the beginning. Burton's gothic style is naturally theatrical and the original film is rife with musical sequences and wacky set pieces. I sincerely hope we get a Broadway version of "Jump in the Line."
The musical has had three readings and two laboratory workshops so far, but the producers have not yet announced casting for the production. No further details about casting and exact dates for the D.C. run or potential Broadway run for Beetlejuice have been set.
Beetlejuice will be the latest musical undertaking for  Warner Bros. Theatre Ventures and Langley Park Productions, which faced some disappointments with its most recent musical, Charlie and the Chocolate Factory.