'Avengers: Infinity War' TV Spot: Teenaged Groot Has An Attitude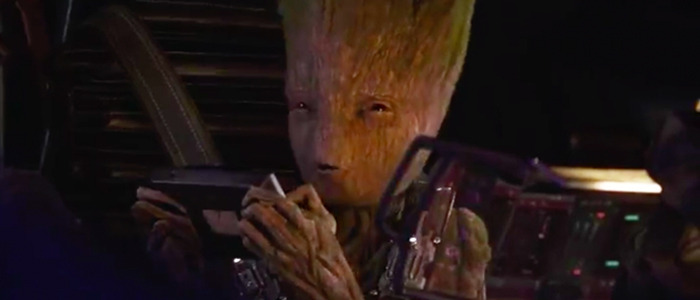 As he's been depicted thus far in the Marvel Cinematic Universe, Groot has been an emotionally pure, well-meaning, and protective talking alien tree. But after he sacrificed himself for the Guardians at the end of their first movie and spent all of Guardians of the Galaxy Vol. 2 as Baby Groot, the character has grown into a moody teenager. In a new Avengers: Infinity War TV spot, we see just how much he's changed and get a look at Groot's newfound attitude. The words "I am Groot" have never sounded so sarcastic.
Avengers Infinity War TV Spot
That TV spot is full of a lot of footage we've already seen spread across the first two official trailers for the film, but the bit with the Guardians at the end is totally new. Mirroring scenarios every parent of the last 30 years has likely faced, Peter Quill is in the driver's seat and wants Groot to quit playing video games in the back seat. But the temperamental teen responds sarcastically in the only words he knows, and even Rocket Raccoon is taken aback by what the teenaged tree says. "Whoa, language!" Rocket exclaims, recalling a running gag in Avengers: Age of Ultron in which Captain America takes umbrage with people swearing around him.
But my favorite part of this new footage is imagining Vin Diesel in a recording studio somewhere, having to hone in on the perfect amount of sarcasm when delivering his lines as teen Groot. What a mental image. For more on how the Guardians fit into the events of Infinity War, click here.
Avengers: Infinity War managed to secure one of the best casts in film history: Scarlett Johansson, Josh Brolin, Robert Downey Jr., Mark Ruffalo, Tom Hiddleston, Chris Evans, Chris Hemsworth, Jeremy Renner, Chris Pratt, Elizabeth Olsen, Sebastian Stan, Benedict Cumberbatch, Paul Bettany, Samuel L. Jackson, Chadwick Boseman, Cobie Smulders, Benedict Wong, Zoe Saldana, Karen Gillan, Dave Bautista, Pom Klementieff, Don Cheadle, Tom Holland, Bradley Cooper, and Anthony Mackie.
As the Avengers and their allies have continued to protect the world from threats too large for any one hero to handle, a new danger has emerged from the cosmic shadows: Thanos. A despot of intergalactic infamy, his goal is to collect all six Infinity Stones, artifacts of unimaginable power, and use them to inflict his twisted will on all of reality. Everything the Avengers have fought for has led up to this moment – the fate of Earth and existence itself has never been more uncertain.
Avengers: Infinity War arrives in theaters on April 27, 2018.