Simon Pegg Explains Why 'Star Trek Beyond' Failed At The Box Office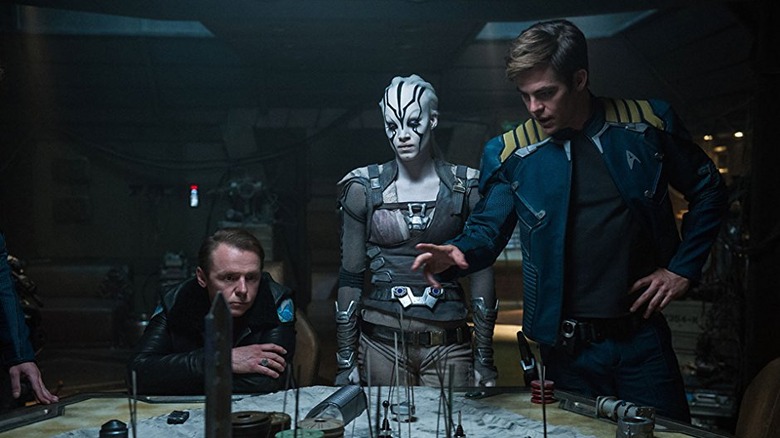 Star Trek Beyond was by no means a box office disaster. It raked in $158 million domestically and went on to have a $343 million total haul worldwide. But compared to its predecessors Star Trek and Star Trek Into Darkness, Star Trek Beyond failed to boldly go toward sky-high box office expectations.
So what was the reason for Star Trek Beyond's box office disappointment? Star Simon Pegg has an explanation: the marketing.
Simon Pegg told Geek Exchange that he believed the poor marketing was to blame for the movie's disappointing box office haul:
I think it was poorly marketed to be honest. If you look at a film like Suicide Squad, that was around for such a long time before it finally came out and people were so aware of it. Whereas with Star Trek Beyond, it was left too late before they started their marketing push. It still did great business, but it was disappointing compared to Into Darkness.
But Pegg has one specific gripe to pick with Paramount's Star Trek Beyond marketing team. The trailers for the film used the Beastie Boys song "Sabotage," which played a pivotal part in a late-act plot twist. "I was really angry about that," Pegg said. He continued:
"Because it used Sabotage, which was our surprise moment in the end. It was supposed to be a very fun and heightened twist, and something that was a big surprise and they blew it in the first trailer, which really annoyed me. They also made the film look like a boneheaded action film. And they were scared, I think, of mentioning the 50th Anniversary. It was fumbled as a thing; they didn't know what to do with it and it's a real shame. But I came away from it really, really happy and very proud of it.
Star Trek Beyond did well domestically, but only earned an additional $184 million in international markets. With its $185 million production budget, Star Trek Beyond easily made back its costs, but not with the soaring numbers that Paramount supposedly expected. By comparison, Star Trek made $467.4 million worldwide in 2009 while Star Trek into Darkness made $385 million in 2013.
On top of that, the franchise did celebrate its 50th anniversary in 2016 — a huge feat for any franchise, especially one as beloved and prolific as Star Trek. But the celebrations from CBS and Paramount essentially amounted to... a fan video? I can see where that can be disappointing for Trekkies and for everyone involved in the J.J. Abrams-rebooted universe. It's especially a letdown for Justin Lin's Star Trek Beyond, which actually managed to pay a loving homage to the original series with its episodically structured plot and scene-stealing new character played by Sofia Boutella.
But maybe the future of Star Trek will look a little brighter with Star Trek Discovery and the possible Quentin Tarantino Star Trek movie down the road.