'Stranger Things' Season 3 Will Be Set In 1985, Other New Details Revealed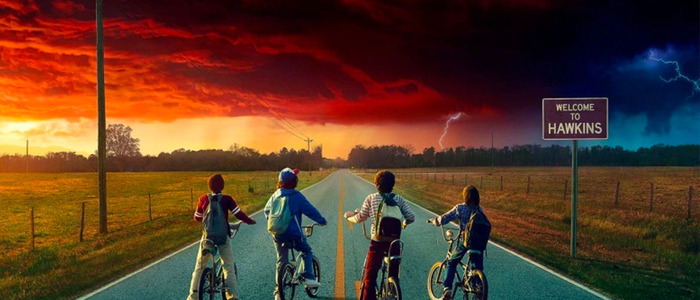 The cast and crew behind Netflix's monster hit Stranger Things have dropped some new Stranger Things season 3 details. You can expect a new year, more character romances, and more of Steve and his glorious hair.
We may have to wait a while before we lay eyes on Stranger Things season 3. But if you're impatient and want some new info now, you're in luck. During a recent PaleyFest panel, the cast and crew behind the show revealed some new Stranger Things season 3 details to whet your appetite. These details, via THR, are vague enough that they don't give much away, but enticing enough that you'll want to know more.
1985
Stranger Things season 3 will be set during the summer of 1985. Season one took place in '83, and season two was set in '84. In the past, Stranger Things creators the Duffer Brothers have said that the show will likely run for four or five seasons. If that ends up being true, and the show keeps moving forward one year per season, it's likely that the series will end with the close of the 1980s. If you were hoping for some '90s nostalgia, you'll just have to watch Netflix's Everything Sucks instead.
It's worth noting that Back to the Future and The Goonies both hit theaters in the summer of 1985, so I wouldn't be surprised if those films are referenced at some point.
Love Is In The Air
At the end of season 2, Eleven (Millie Bobbie Brown) and Mike (Finn Wolfhard) were starting to feel the pangs of young love, as were Lucas (Caleb McLaughlin) and Max (Sadie Sink). During the panel, Stranger Things executive producer Shawn Levy confirmed that would carry over into season 3, saying:
"Mike and Eleven and are going strong, so that's a relationship that continues, and same with Mad Max and Lucas. But again, they're like 13- or 14-year-old kids, so what does romance mean at that stage of life? It can never be simple and stable relationships and there's fun to that instability."
Stranger Things fans will note that romance doesn't always work out so well in the universe of the show. Last season's biggest romantic subplot involved Joyce (Winona Ryder) and Bob (Sean Astin), and we all know how that turned out: not well (for Bob).
More Steve!
Stranger Things season 2 increased the role of bully-turned-hero Steve Harrington and his big, glorious hair. If you wanted more of Steve, as played by Joe Keery, you're in luck. Shawn Levy says Steve's part will be even bigger in season 3:
 "We'll definitely get to see some more of Steve Harrington in season three, and I'll just say we won't be abandoning the Dad Steve magic. I don't want to say much more, but I literally feel that we were walking along and we stumbled onto a gold mine with Dad Steve."
***
During the panel, Shawn Levy also took time to address recent allegations from a former crew member that the Duffer Brothers "verbally abused" several women on set. "We were genuinely upset," Levy said. "And we were surprised to hear that anyone felt uncomfortable on set...I want to be really clear that nobody has been targeted in any way on the basis of race or gender. We all cherish the family that we've created onscreen and cherished equally the family that we created on set and we're going to remain committed to the well-being of that."
There's no date set yet for Stranger Things season 3, but the show won't likely return until 2019.