The Spice Girls Are Making An Animated Superhero Movie, And No, We're Not Kidding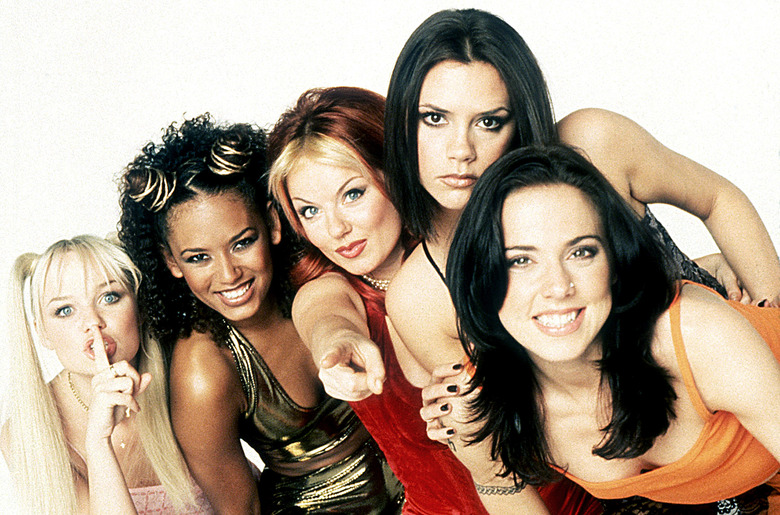 Ready to spice up your life with an unexpected group of animated heroes? There's a Spice Girls superhero movie on the way, despite the fact that – *double-checks* – yes, it is in fact the year 2018, not the late 1990s. Each member of the English quintet is set to voice a character based on her pop persona in an upcoming film project.
A Spice Girls Superhero Movie?
Yes, this is apparently a real thing. Variety reports that an animated Spice Girls superhero film is currently "being shopped to potential production partners," and all five members of the pop star group have signed off on their likenesses being used in the movie. Geri Halliwell ("Ginger Spice"), Victoria Beckham ("Posh Spice"), Melanie Brown ("Scary Spice"), Melanie Chisholm ("Sporty Spice"), and Emma Bunton ("Baby Spice") will each voice a character which "feature a 'girl power' unique to that group member that reflects each girl's personality."
For our younger readers who may not recall, the Spice Girls were ubiquitous in the mid-to-late '90s, selling 31 million copies of their debut album and becoming the highest-selling female group in the history of music. Like The Beatles before them, the girls rose beyond the shores of England to become global superstars, and they even got their own movie with the release of Spice World. (That movie is now 20 years old, and we recently published an in-depth re-examination that you should read right here.)
In terms of this upcoming (still untitled) animated project, one of Variety's sources tells the outlet, "The Spice Girls are thinking big in terms of a franchise on a global scale. They're the most successful girl group on the planet. It's just what Marvel or Disney needs." That seems like a bit of a stretch – Marvel and Disney are doing just fine without the Spice Girls. But there's definitely room for another Spice Girls movie in today's film landscape, even if I'm not fully convinced the kids of today will take to the Brit-pop singers the same way people in my generation did twenty years ago.
But maybe there are enough people my age who remember jamming out to "Wannabe" on the radio and plastering Spice Girls posters all over their bedroom walls who would go see this movie and make the whole thing worthwhile. We'll keep you posted when we hear any more about this, but in the meantime, here's your earworm for the day: