MoviePass Drops Prices To An Even Lower $6.95 A Month: What Is Their Business Strategy?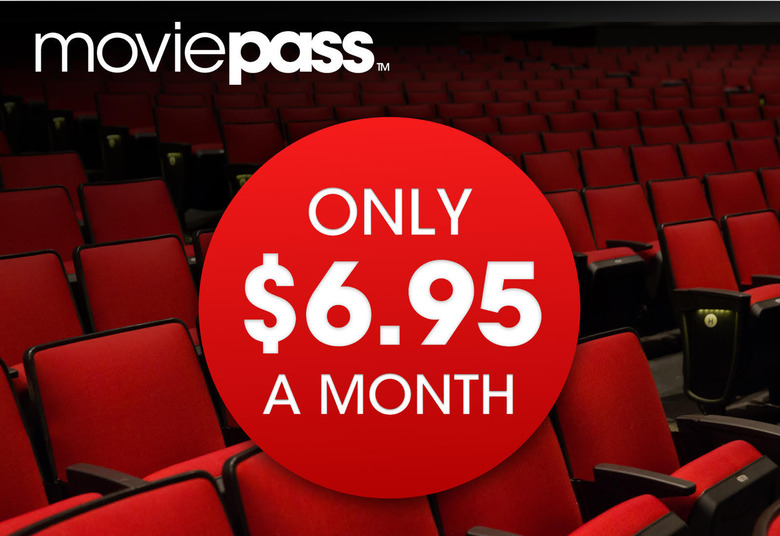 What is MoviePass' business model? Is it getting a portion of the theaters' box office or concessions income? Is it partnering with studios to promote their films? Or is it using its growing subscriber base as leverage in an ongoing revenue war against theater chains?
Whatever their strategy is, it doesn't seem to making MoviePass much money in the long run. So why do they keep dropping their prices? MoviePass has just dropped its prices to the lowest they've ever been: $6.95 a month.
MoviePass announced that, for a limited time, it is offering its annual subscription to new subscribers for $6.95/month. That's half the price of a regular movie ticket in most markets.
This isn't the first time the company has offered the limited-time annual plan for the equivalent of $6.95 a month. In November 2017, MoviePass announced a special limited-time subscription of $89.95 for a year, which would be roughly the equivalent of $6.95 a month. We speculated back then that this was a grab for some fast cash for MoviePass, whose new plan of $9.95 a month barely seemed sustainable.
Now, MoviePass is offering the annual plan again. In a statement, the company said:
The annual $6.95/month plan is available for new MoviePass subscribers only, and gives new subscribers the ability to attend up to one new movie per day in theaters for a whole year. MoviePass works at over 91% of theaters in America.
"Our vision has always been to make the movie going experience easy and affordable for anyone, anywhere," MoviePass CEO Mitch Lowe said in the statement. "With the current growth and support that we've seen within the last several months, our studio and exhibitor revenues and other marketing partnerships have motivated us to lower the price once again, offering movie lovers greater access to MoviePass."
Is MoviePass Aiming for Profile, Not Profit?
MoviePass is experiencing steep losses, that's no question. The company's model requires that MoviePass buy each movie ticket at regular price for each subscriber, while the subscriber pays only a monthly cost. If each subscriber sees more than one movie a month, MoviePass is already losing money.
But maybe profit isn't MoviePass' goal. Maybe it's a higher profile.
Take Uber, for example. The ride-share company recently revealed that it lost $708 million in the first three months of the year — an enormous loss that would be enough to put any company out of business. But Uber's investors couldn't care less. According to CNN, Uber's investors actually applaud the financial loss because it means a gain in ubiquity and more profit in the future. "By spending aggressively now, Uber can beat competitors on pricing and invest heavily in the future of self-driving cars," CNN writes.
Could that be the strategy that MoviePass is aiming for? The company has often touted its growing user base, which could hit 5 million subscribers by the end of 2018. Perhaps MoviePass wants to grow its user base to incredible numbers so that it could assert its dominance in the market. That is, after all, how Amazon became a corporate giant.