A Brand New 'Star Wars' Planet Will Appear In 'Solo: A Star Wars Story'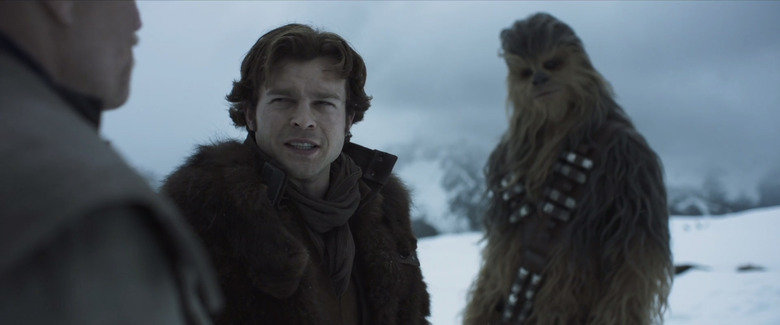 That galaxy far, far away just keeps getting bigger.
A new planet will be introduced in Solo: A Star Wars Story, adding to the ever-growing list of Star Wars planets and moons. But this new planet is more than simply a reason for the Star Wars story group to whip out their wildest sci-fi planet names. The new Star Wars planet will play a pivotal part in the big train heist in Solo: A Star Wars Story.
The new Star Wars planet introduced in Solo is called Vandor, according to Making Star Wars.
We found out about Vandor's existence in a new Solo: A Star Wars Story book description, which confirms that Vandor is a major planet that will play an essential role in the plot of the latest Star Wars spin-off film. Here is the description, courtesy of Amazon:
Han Solo and Chewbacca the Wookiee must team-up for a daring train heist on the planet Vandor!
In the trailer, Vandor is the planet where we see a train flying going through the mountains on a course that looks dangerous enough for a big action scene. It seems to be a snowy, mountainous, and treacherous planet, but we have no other details about Vandor for now.
According to Making Star Wars, these are the locations included in the film:
Corellia
Kessel
Iridium
Savareen
Vandor
It will be exciting to see a new Star Wars planet in Solo, even if it is yet another snow-covered one. Seriously, how many desert or snow-covered planets are there in this galaxy?
Solo: A Star Wars Story hits theaters on May 25, 2018. It's directed by Ron Howard and stars Alden Ehrenreich as Han Solo, alongside Woody Harrelson, Emilia Clarke, Donald Glover, Thandie Newton, Phoebe Waller-Bridge, Joonas Suotamo, and Paul Bettany.
Board the Millennium Falcon and journey to a galaxy far, far away in Solo: A Star Wars Story, an all-new adventure with the most beloved scoundrel in the galaxy. Through a series of daring escapades deep within a dark and dangerous criminal underworld, Han Solo meets his mighty future copilot Chewbacca and encounters the notorious gambler Lando Calrissian, in a journey that will set the course of one of the Star Wars saga's most unlikely heroes.