Pop Culture Imports: A Cult Japanese Reality Show Returns, A Samurai Bloodbath, And One Of The Best New Netflix Animes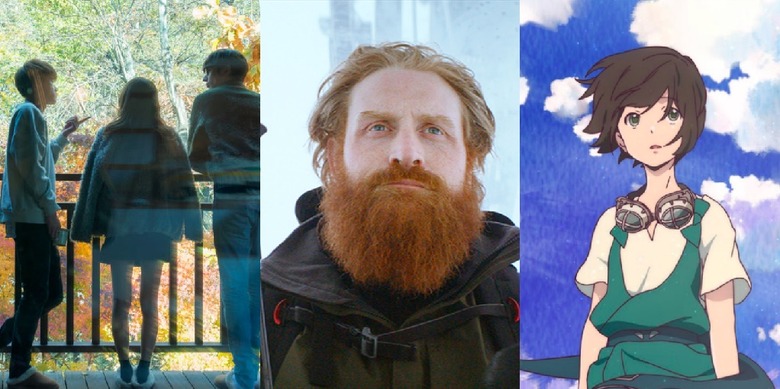 (Welcome to Pop Culture Imports, a column that compiles the best, wackiest, and weirdest foreign-language movies and TV shows streaming right now.)
It's nearly the end of March and spring is in full bloom. Or at least, it's supposed to be. Four days into spring, and the northeast has already been ravaged by a massive snowstorm, cancelling flights and closing down governments. So when you have an unexpected March snow day, what are you to do? Watch some foreign-language movies of course! Because I know the one thing you want to do during a snowstorm is read some subtitles.
This month, we have the return of a soothing Japanese reality show, a wintry Swedish family drama, a bonkers samurai bloodbath, an inspiring Indian athletic documentary, and one of the best new Netflix original animes yet. Tuck in for some of the best foreign-language TV shows and movies streaming now.
1. Terrace House: Opening New Doors: Part 1  – Netflix
Country: JapanGenre: Reality TV seriesCreator: Fuji TVCast: You, Reina Triendl, Yoshimi Tokui, Azusa Babazono, Ryota Yamasato, Kentaro.Terrace House is a reality show about nothing. And that's what makes it so amazing. An unscripted show about three men and three women living in a plush minimalist house together, Terrace House sounds like it takes cues from trashier American counterparts like The Real World. But it has more in common with a nature documentary than it does with its bombastic American cousins.
That's because Terrace House has a warm heart beneath its voyeurism. Gone are the talking heads and flashy sound effects of American reality TV. The camera simply rolls as life goes on in the house, where housemates have stilted social interactions, awkward flirtations, and occasional passive-aggressive clashes. Sometimes, they even hold hands! And all the action (or non-action) is observed by a panel of actors, comedians, and MCs, who overanalyze every dialogue exchange and mine them for meaning. While at first the presence of an "after show"-style panel during the episode can be jarring, it becomes essential when all the drama happens beneath the surface.
And drama does indeed happen, even on a show whose biggest incident until now was when the housemates ate another housemate's expensive cut of Wagyu beef. The newest season of Terrace House, Terrace House: Opening New Doors, is the third season to air as a Netflix original and the first season to really pull off that balance between hypnotic tranquility and juicy drama. Boys and Girls in the City's slow-burning action and decadent food scenes sometimes made it feel more like a TV version of ASMR, while Aloha State played like an extended vacation in sunny Hawaii. Opening New Doors — filmed in the lush, mountainous Nagano prefecture in Japan — brings us back to that earthy authenticity. And the chemistry between the housemates feels more compelling than ever, with the six men and women ranging from age 19 to 31 often acting like a pseudo-family unit. Some drama does emerge thanks to one deadbeat castmate, but Opening New Doors is a welcome return to form for Terrace House after the disquieting artificiality of Aloha State.
Only eight episodes are available on Netflix for now, but the rest of the season will be released in the U.S. over the next few months.
Watch This If You Like: The Real World, The Great British Baking Show, ASMR YouTube videos, food porn.
2. Force Majeure –Hulu
Country: SwedenGenre: Comedy-dramaDirector: Ruben ÖstlundCast: Johannes Bah Kuhnke, Lisa Loven Kongsli, Clara Wettergren, Vincent Wettergren, Kristofer Hivju, Fanni Meteliu.
From the director of The Square, Force Majeure is a blistering exploration of wounded pride and masculinity. Though Force Majeure doesn't have quite touch on the surreal chaos of Östlund's newer film, it's clear that the director is fond of toying with the upper limits of our discomfort.
Force Majeure follows a successful Swedish businessman Thomas as he goes on a skiing vacation in the French Alps with his idyllic family: his svelte Norwegian wife Ebba and their two blonde children. But the picture-perfect vacation quickly goes awry when the family witnesses a controlled avalanche — the fog from the avalanche making it appear as if the snow would swallow them whole. In a moment of panic, Thomas quickly hightails it and runs as his wife and children cry for him to help. And when they all emerge unharmed, the family dynamic is shattered forever.
The plot is pretty thin — the film is essentially a thought experiment rendered into a two-hour feature — but Force Majeure wields its black comedy with such withering wit that you can't help but be swept up in the family psychodrama. Plus, Game of Thrones fans will be glad to recognize Kristofer Hivju, who plays Tormund Giantsbane in the HBO show, as a beleaguered friend of Thomas' in Force Majeure.
Watch This If You Like: The Square, Clouds of Sils Marie, A Bigger Splash, skiing, the disintegration of the nuclear family ideal.
3. Blade of the Immortal – Hulu
Country: JapanGenre: Action, SamuraiDirector: Takashi MiikeCast: Takuya Kimura, Hana Sugisaki, Sota Fukushi, Hayato Ichihara, Erika Toda, Kazuki Kitamura, Chiaki Kuriyama.
Hollywood has agonized over how to make the perfect anime adaptation, but it turns out Takashi Miike has already done it. And he does it by leaning into all the excesses of the animation medium: its weirdness, its larger-than-life emotions, its spiky and bleached hair.
Takashi Miike's over-the-top, hyperviolent style has always taken cues from anime, but it's never felt like more of a perfect fit than with Blade of the Immortal, an adaptation of the eponymous manga series by Hiroaki Samura. Blade of the Immortal follows Manji, a disgraced samurai who is cursed with immortality after he slaughters dozens of outlaws who murdered his sister. Fifty years after he gains immortality, Manji is hired by a young girl to avenge the death of her parents at the hands of a ruthless band of master swordsmen. What follows is a relentless barrage of grueling sword choreography, outlandish boss battles, and even more ridiculous hybrid weapons. Oh, and lots and lots of blood.
Miike's gift for brutality is enough reason to see this movie, but star Takuya Kimura is the reason to stay. As a longtime Japanese heartthrob and beloved dramatic actor, Kimura has never quite dived into a grungy, sadistic role like this, and boy, does he sell it. Kimura's star power is bursting at the seams, blending perfectly with the raw carnage of Miike's filmmaking
Watch This If You Like: True Grit, Rurouni Kenshin, Bleach, sexy facial scars on former J-pop boyband members.
4. Ladies First – Netflix
Country: IndiaGenre: DocumentaryDirector: Uraaz BahlCast: Deepika Kumari.
"I believe people often throw around the term 'ladies first,'" Deepika Kumari says wearily in the documentary about her rise and fall in the professional archery world. "So when girls want to advance in life, be it education or sports, why not say 'ladies first' when it really counts? Do they actually believe girls are weak or incompetent? I believe they are afraid of us that if we are given freedom we will surpass them and go so far ahead they won't be able to see us at all."
Kumari rose from abject poverty to become the No. 1 professional archer in the world and the pride of India. But soon after Kumari's rapid ascent, she would fall. Her No. 1 title would be lost after she crashed and burned at the 2012 London Olympics, and just as quickly as India embraced her, the country shunned her. And it was clearly because she was a woman, Kumari says. India is deeply patriarchal, discouraging women from working and pursuing careers. Kumari was an exception, pioneering the way for women in Indian athletics. And then, she was an anomoly.
The half-hour documentary follows Kumari as she prepares for the 2016 Rio Olympics, dealing with a shoulder injury and with her own government's reluctance to aid the women's teams. Kumari is inspiring in the unrelenting way she battles for equal treatment, though Ladies First can't help but give a bittersweet message. But in the end, the documentary is able to inspire hope amidst a hopeless situation.
Watch This If You Like: Hoop Dreams, Miss Representation, the Olympics, getting inspired by archery!
5. Children of the Whales – Netflix
Country: JapanGenre: AnimeCreator: Kyohei Ishiguro, Michiko YokoteCast: Natsuki Hanae, Manaka Iwam, Yuichiro Umehara, Nobunaga Shimazaki.
The first thing you should know about Children of the Whales is that it is stunning. It's difficult to find anime these days that can be described as veritable works of art, but nearly every frame of Children of the Whales deserves that honor. Children of the Whales combines immaculate hand-drawn designs with CG animation. The dreamy, post-apocalyptic imagery evokes the sumptuous style of Nausicaa of the Valley of the Wind, and the story is almost up to snuff.
Children of the Whales follows a boy named Chakuro who lives in a utopian community aboard a giant vessel called the Mud Whale, which for decades has drifted aimlessly across a sea of sand. The idyllic community is made up of magic and non-magic users, but only the non-magic people have full lifespans. But all is not as it appears, as the ruling group of the Mud Whale seems to harbor some dark secrets — secrets that are exposed when Chakuro discovers a young, injured girl aboard a neighboring floating island.Children of the Whales is gorgeously rendered but clunkily told — much of the first episode is dedicated to dense world-building that only makes the narrative more confusing  But the anime is a lovely, emotional high-fantasy series that is one of Netflix's best anime offerings yet.Watch This If You Like: Nausicaa of the Valley of the Wind, Waterworld, Children Who Chase Lost Voices, the return of hand-drawn animation.