First Look: Hasbro Created A 4-Foot Toy Replica Of Jabba's Sail Barge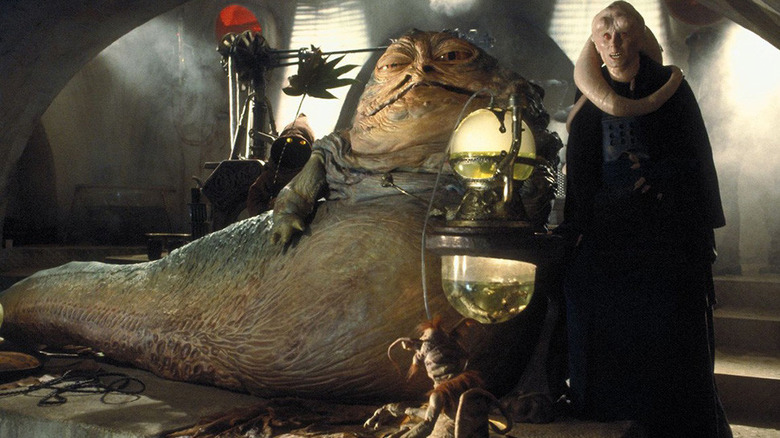 Soon, you could acquire your own four-foot long prototype of one of the most notorious vehicles in the Star Wars universe. Maybe.
The Jabba Sail Barge may officially make it to toy form, thanks to Hasbro's crowdfunding toy initiative. The result: an elaborate, detailed replica of the Hutt crime lord's luxurious barge that you can add to your Star Wars toy collection. If it makes its crowfunding goal in time.
Come sail away on Jabba's luxurious sail barge, where Princess Leia was imprisoned and untold horrors probably occurred. There's no Leia, but Jabba's sail barge, AKA the Khetanna, does come with a special action figure of the alien con artist known as Yak Face (his friends call him Saelt-Marae). And of course, the slug-like crime lord himself, Jabba.
Here is the first look at the Jabba Sail Barge toy, which comes complete with detailed fan-accessible interior/exterior decks, one Jabba the Hutt 3.75-inch scale figure, two soft-cloth fabric sails, and other realistic features. It's a Star Wars collector's dream.
However, the Khetanna will only come into being if the fans make it happen. The ambitious prototype was created for Hasbro's crowdfunding initiative, HasLab, which aims to bring to life the most in-demand playsets for serious collectors. These playsets stand apart from regular Star Wars toylines because of their niche appeal and high costs — they could never get made on a huge scale because they're not guaranteed to sell.
And Hasbro seems to have found the perfect compromise with this crowdfunding campaign. The Jabba Sail Barge toy will be made if at least 5,000 people shell out a whopping $499.99 each to support the project. Fans have until 11:59 p.m. ET on April 3, 2018 to complete that goal and get the real thing.
But things don't look too rosy for the HasLab campaign. Although the campaign was launched a month ago, the Jabba Sail Barge toy campaign is barely at 60% of its goal, with only 13 days left. Hasbro has expanded the campaign beyond the U.S., but it's clear that this hasn't helped boost numbers. The lack of enthusiasm may be due to the lofty cost or the fact that not many people are jostling for a Jabba playset. Or perhaps it's because Hasbro hosted the campaign on its own website instead of a well-known crowdfunding site like Kickstarter or Indiegogo.
The Jabba Sail Barge toy campaign will determine the success of HasLab. If it meets its goal, more playsets based on iconic Star Wars vehicles and settings can join your Star Wars collection.