'Backdraft 2' In The Works With 'Apollo 18' Director Gonzalo López-Gallego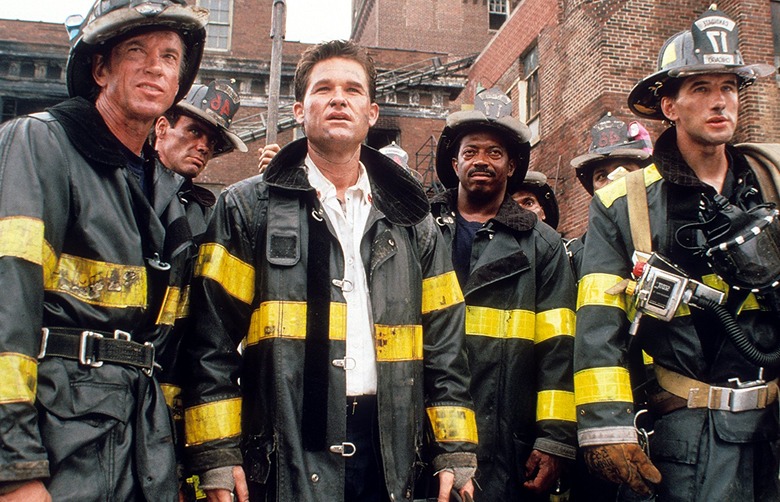 Sequel mania is coming even to modestly received 1991 blockbusters whose biggest claim to fame is getting a sweaty, soot-covered Kurt Russell to don a firefighter suit.
That's right, the Backdraft sequel you've been eagerly waiting for is on its way. Backdraft 2 is now officially in the works at Universal with a director attached and co-star William Baldwin set to return.
Universal has tapped Spanish director Gonzalo López-Gallego, best known for the 2011 science-fiction thriller Apollo 18, to helm Backdraft 2, according to MovieHole.
The film is tentatively titled Backdraft II and will reportedly follow the grown son of Kurt Russell's character, an investigator with the Chicago F.D. who still holds his uncle (Baldwin) responsible for the death of his father. The villains this time around are a group of agents who are attempting to sneak a missile out of the country, using a series of deadly fires as a distraction.
Production is set to begin in Romania and Toronto next month.
It sounds like the plot of the sequel — which will take place a daunting 27 years after the original — is formed in the vein of the "legasequel," a relatively modern creation. Creed, Star Wars, even Pacific Rim follow a next-generation character who has to live up the legacy of the heroes before them — those heroes often being their own father.
The original 1991 film boasted a star-studded ensemble, including Donald Sutherland, Robert De Niro, and Jennifer Jason Leigh, and was an early hit for director Ron Howard. However, the only familiar face confirmed to return for the sequel is Baldwin.
The first Backdraft followed a team of firefighters in Chicago on the tail of a serial arsonist. Here's the synopsis to refresh your memory:
Chicago firefighting brothers Stephen (Kurt Russell) and Brian (William Baldwin) have been rivals since childhood. Brian, struggling to prove himself, transfers to the arson unit. There he aids Don (Robert De Niro) in his investigation into a spate of fires involving oxygen-induced infernos called b

ackdrafts. But when a conspiracy implicating a crooked politician and an arsonist leads Brian back to Stephen, he is forced to overcome his brotherly competitiveness in order to crack the case.
The movie received mixed critical reviews, but had a fairly successful box office run, apparently becoming the highest-grossing movie about firefighters until I Now Pronounce You Chuck and Larry took that crown in 2007 (seriously). It also received lavish praise for its state-of-the-art fire effects.
There's no news yet on when Backdraft II is set to be released.