Tom Hanks' Mr. Rogers Movie Is "A Story For Our Times," Says Director Marielle Heller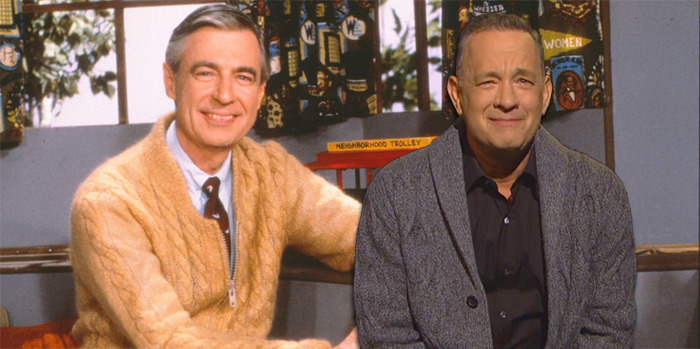 Earlier this morning, we wrote about the trailer for Won't You Be My Neighbor, an upcoming documentary about the life of television host and inspirational figure Fred Rogers. But that's not the only Mr. Rogers movie that's on the way – Tom Hanks will be stepping into the role of the iconic TV personality in a drama called You Are My Friend. We already knew the movie wouldn't be a traditional biopic, and in a new interview, director Marielle Heller reaffirms that notion and offers up some new plot details as well.
Marielle Heller broke out with 2015's indie drama The Diary of a Teenage Girl, where her care and respect for her characters shone through in practically every frame. She'll be behind the camera for You Are My Friend, which she tells Entertainment Weekly is "not a biopic."
"It's really not. It's a movie that's largely focused on a reporter and [Mr. Rogers'] relationship to his life, and how [the reporter's] whole world changes when coming in contact with Fred Rogers."
That reporter is Tom Junod, who was assigned by Esquire to write a profile of Fred Rogers in 1998. Junod didn't think he'd get much out of the writing assignment, but he was so moved by his encounter with Rogers that it altered the course of his life. Heller explains:
"It's a story for our times, a story about kindness and family connection and trying to tap into our better self. God knows we need that right now! In the research for the movie, the writers found that more people than they could possibly count credited Mr. Rogers with changing their lives.... [It's about] one man who's in a critical point in his life — becoming a new father, having issues with his own father — and meeting Mr. Rogers to write a piece about him, thinking it's going to be a bit of a puff piece, but it ends up changing his entire life."
The filmmaker says she hasn't begun working with star Tom Hanks on his take on the character yet, but says, "we've had a lot of conversations about the character and he understands the essence of Mr. Rogers." Heller says her lead actor is "essence wise, in the same vein" as Rogers, which she credits as part of the reason his casting was so well-received online.
Transparent producers Micah Fitzerman-Blue and Noah Harpster wrote the script for You Are My Friend, which begins filming this fall for Tri-Star Pictures. It does not have a release date scheduled yet.