'Can You Ever Forgive Me?' Trailer: Melissa McCarthy Stretches Her Dramatic Chops In True-Life Forgery Drama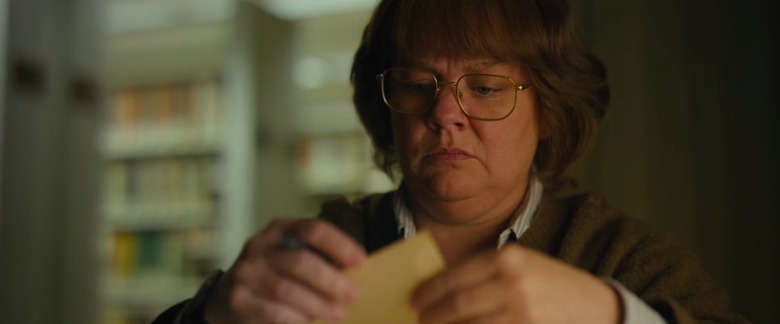 Melissa McCarthy rocketed to fame as the crass and loud-mouthed Megan in 2011's Bridesmaids, and since then, the actress has perfected her brand of broad comedy to the tune of an $18 million paycheck in 2017. She was the fourth highest-paid actress last year according to Forbes. So why change up the formula?
For the art and possibly, the Oscar. McCarthy makes her foray into serious dramatic acting with Can You Ever Forgive Me?, an biographical comedy-drama about Lee Israel, a former author who ran a notorious literary forging scheme. And it may be early to call an Oscar buzz, but McCarthy gives an impressive and surprising performance in the first Can You Ever Forgive Me trailer
Can You Ever Forgive Me Trailer
Based on Lee Israel's memoir of the same name, Can You Ever Forgive Me? follows the washed-out author as she becomes rich off her forgeries. Until the FBI comes knocking.
The first few minutes are nothing we haven't seen before from McCarthy: an irreverent tone, a mousy wig, a character with a timid personality. But the story takes on a darkly comic twist as McCarthy's Lee Israel begins forging letters from dead authors and celebrities to make a living. She's joined by a delightful Richard E. Grant as Lee's friend, who gleefully joins in on the forgery scheme.
Judging by the trauler, Can You Ever Forgive Me? is a comedy-drama in line with I, Tonya — and potentially has an Oscar-worthy performance from McCarthy in line with Margot Robbie's performance as well. I can't assume too much without seeing the movie, but I'm impressed by what McCarthy does in the two-minute trailer.
Marielle Heller directs the film written by Nicole Holofcener and Jeff Whitty. Can You Ever Forgive Me? also stars Jane Curtin, Dolly Wells, Anna Deavere Smith, and Jennifer Westfeldt.
Here is the official synopsis for Can You Ever Forgive Me?:
Melissa McCarthy stars in the adaptation of the memoir CAN YOU EVER FORGIVE ME?, the true story of best-selling celebrity biographer (and friend to cats) Lee Israel (Melissa McCarthy) who made her living in the 1970's and 80's profiling the likes of Katharine Hepburn, Tallulah Bankhead, Estee Lauder and journalist Dorothy Kilgallen. When Lee is no longer able to get published because she has fallen out of step with current tastes, she turns her art form to deception, abetted by her loyal friend Jack (Richard E. Grant).
Can You Ever Forgive Me? is set to hit theaters on October 19, 2018.